Early Experiments with Personas
Secondary Infektion experimented with different formats of false account before it settled on its trademark reliance on single-use burners. Between 2014 and 2016, the operation ran a number of accounts that it tried to build up into pseudo-personalities, complete with stolen profile pictures and at least some attempt at creating a believable backstory for these personas. In this section, we examine a few of those early experiments.
The first of these began operating in Russian in very early 2014 and attacked members of the Russian opposition before it turned to attacking Ukraine, a salutary reminder that disinformation, like charity, starts at home. Over the following year, the operation added a cluster of further personas in English, German, Russian, and possibly Swedish, using them to amplify its content.
These personas primarily published lengthy blogs, especially on Blogspot and Wordpress. Often, the personas reproduced articles that single-use burner accounts had already posted, sometimes with attribution, sometimes without - perhaps as an attempt at plausible deniability. They thus constituted a secondary amplification network.
This had modest success. The first Russian-language account, the "Blue Man," did gain at least some audience, to judge by the responses to some of "his" posts; the cluster of secondary amplifiers in other languages sometimes managed to land stories in the Russian-language media. This was trivial compared with the large-scale followings that the Russian IRA built up, but it did show at least some degree of online reach.
However, Secondary Infektion abandoned most of these personas in mid-2016, for reasons that are not yet known. It may be that the operators behind Secondary Infektion wanted to improve their OPSEC because of other incidents that occurred around that time, especially the Russian hacking and leaking of emails from the Democratic National Committee; it may be that they decided independently that the audience gained by maintaining persistent personas was not worth the heightened risk of detection. Whatever the case, they fell silent, and the experiment was not repeated outside the Russian-language space - as far as we have been able to establish.
The Blue Man
The most prolific and realistic Secondary Infektion persona was the asset dubbed the "Blue Man," first exposed as part of the operation by Facebook in May 2019, and described by the DFRLab in June.[256] The account authored at least 226 Russian-language posts across six platforms, starting with LiveJournal in January, 2014, with his location stated as Ukraine.
The persona gave his name on every platform as "Stanislav Melanich" or "Stas Melanich," sometimes with the username "bloger_nasralny," the second part being a foul-mouthed play on the name of prominent Russian opposition figure Alexey Navalny. His profile picture was always a photo of Navalny coloured blue – hence the nickname. Unlike most Secondary Infektion assets, his posts did attract readers' comments, indicating at least some online reach.
The persona's first few posts attacked Navalny and his colleagues, essentially accusing them of being corrupt puppets of the United States. This underscores how much disinformation is domestic in origin[257]: even the entity that became the Russian IRA started out by targeting Navalny.[258]
On February 26, 2014, however, four days after Ukraine's then-President Viktor Yanukovych fled the country, the persona began commenting about events in Ukraine by reposting a LiveJournal blog headlined "Kharkov, Arise!" ("Харьков, вставай!", referring to the Ukrainian city of that name, through which Yanukovych had passed on his way into exile).[259]
I simply don't have time or strength to do what I was before. Too much work lies ahead in breaking through the information blockade that the Official Ukrainian Media have imposed on the national resistance to the new order across the whole of South-East Ukraine.
From then on, the Blue Man posted about Ukraine unrelentingly. Of 226 posts on various platforms, just 24 were about the Russian opposition, the Baltic States, or the United States and the West; the rest were Ukraine all the way.
The persona wrote fluently and in a personal tone, mocking and contemptuous, sometimes foul-mouthed, and littered with sarcastic references to Ukraine's European hopes and aspirations. He always wrote in Russian, with some Ukrainian words and terms sprinkled in, sarcastically, such as перемога/перемоги ("victory/victories") or calling Ukraine ЦеЕвропа, a condescending reference to the Ukrainian phrase Україна - це Європа ("Ukraine is Europe").
For example, in one post headlined "Перемога энергетическая" ("Energy Victory"), he accused Poroshenko of keeping quiet about an energy deal with Russia because the arrangement did not fit with the image of Russia as the bloodthirsty enemy of Ukraine. This post referred to Poroshenko as "президент ЦэЕвропы" ("the president of IsEurope").[260] In another post mocking a petition to the Ukrainian president, the Blue Man called his translation from Ukrainian into Russian a "Translation into human language" (Перевод на человеческий).[261]
Like other Secondary Infektion assets, the persona existed on multiple platforms but did not always post the same content to each. His activity on his six known platforms unfolded as follows:
LiveJournal as Stanislav Melanich, Bloger_Nasralny, January 12, 2014-July 2, 2019, claiming to be in Ukraine, 201 posts
cont.ws April 23, 2015-April 30, 2018, as Stanislav Melanich with a link to his LiveJournal, 55 posts
Maxpark May 5, 2015-August 21, 2018, as Stanislav Melanich, 20 posts
Aftershock June 25, 2015-June 8, 2018, as bloger_nasralny with an Estonian flag in his profile, 41 posts
Newsland July 2, 2015-July 2, 2019 as Stanislav Melanich, 55 posts
Politikus April 5, 2016-September, 27, 2018, as stasmelanich (Stanislav Melanich), 19 posts

The Blue Man's activity across different platforms, 2014-2019.
After four and a half years of posting, the operators appear to have decided that it was time to try a little market research. The persona's final post on aftershock.news asked readers to rate the sites Aftershock, cont.ws, Politikus, Worldcrisis, and Военное обозрение (Military Review) according to a set of criteria that included length, entertainment value, and happy/sad.[262] There is no indication how many users responded, but the persona only remained on LiveJournal and Newsland thereafter.
The Blue Man had a clear personality, but there was little by way of a clear identity behind it. He said in one of his posts that Ukraine was "my former homeland."[263] His profile on the forum AfterShock.news featured an Estonian flag, and the site gave his last login location as Estonia (he could have used a VPN).[264] He talked about "Ukrainians" rather than "we" or "we Ukrainians." The only profile picture he used was the blue Navalny.
His engaging style and repetitive posting were unusual for Secondary Infektion, but multiple pieces of evidence connect the Blue Man to the broader operation, a connection also corroborated by Facebook's analysis of Secondary Infektion's initial set.
One of this persona's earliest posts, on October 23, 2014, reported an outbreak of Ebola in Ukraine.[265] The report was based on a letter that was allegedly leaked from the Scripps Research Institute; Graphika contacted the alleged author, who confirmed that it was a fake.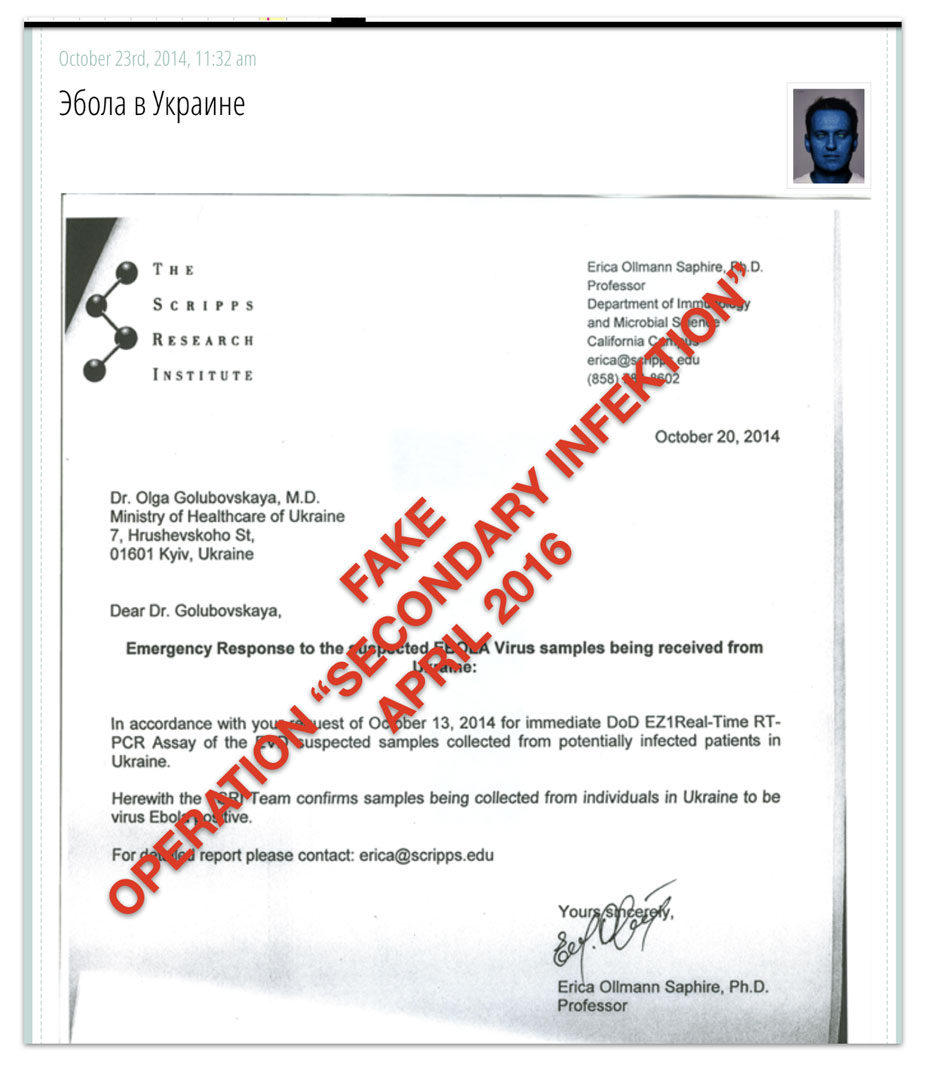 One of the earliest fakes that we have yet identified from Secondary Infektion, concerning the alleged outbreak of Ebola in Ukraine. Professor Ollmann Saphire confirmed it was a forgery.
The fake also appeared in English on a medical forum, curezone.org, where it was posted by an apparent burner account.[266] The use of false leaks and burner accounts suggests the tradecraft of Secondary Infektion in its infancy.
On December 4, 2014, the Blue Man shared a YouTube video, now suspended, attributed to "Anonymous Europe."[267] This claimed to be in possession of leaked proof of a US-EU plot against far-right forces in Europe. For his source, the Blue Man provided a link to now-defunct hacking site cyberguerrilla.org,[268] a site that Secondary Infektion was to use time and again over the years. The YouTube video's description provided what is likely to be a similar text to the defunct cyberguerrilla post:
Recent protests in Budapest have got nothing in common with true people's demonstrations. They are deliberately heated and financed from outside and are aimed at forcing the people's government to take unpopular measures which benefit Washington and Brussels.[269]
Only one other blog shared the same video.[270] This was a German-language account on BlogSpot called "Ulrich Hartmann," another Secondary Infektion asset that we describe in more detail below. Thus by the end of the 2014, the trademark tradecraft of Secondary Infektion was taking shape, and the Blue Man was an integral part of it.
An Early Cluster, 2014-2016
In the months after it gave birth to the Blue Man persona, Secondary Infektion created a cluster of false personas in English, German, and Russian that intersected and cross-posted one another's content. These were the personas "Ulrich Hartmann" and "Max Bromberg" and the blog "Politgraben" in German, the personas "Josef Hashever" and "Steven Laack" and the Twitter account @indepexp (short for "independent expert") in English, and the persona "Innokenty Niusowsky" or "Ino-News" (likely a play on words from the Russian for "foreign news") in Russian. A Twitter account and website, @cyber_legion and cyberlegion[.]org,[271] were briefly associated with them, as was a website focused on the African-American community, blackdefence.wixsite.com (discussed below).
Each had at least the rudiments of a persona. "Steven Laack," for example, claimed to be a Swedish immigrant to the United States; he was mainly active on blogspot.com, while his Twitter account claimed at various times to be located in Providence, Utah and in Florida. "Max Bromberg" claimed to be in Germany and used French model Francois Verkerk as "his" avatar and was more active on WordPress.[272] Almost half of his articles - 30 of 79 - targeted Ukraine, with a specific focus on Ukraine's paramilitary and far-right groups.

Left, Francois Verkek on Pinterest. Right, the Max Bromberg persona on myheimat.de.[273]

Timeline of blog posts by persona. Bar graph label features total number of posts by persona
The "Josef Hashever" persona, also sometimes referred to as "Lunatic Joe H," was a frequent contributor to Before It's News,[274] where it primarily reposted content posted by burner accounts on other platforms some hours or days earlier. Hashever also maintained a Wordpress site, "Lunatic Joe's Blog."[275] On Twitter and Facebook, his profile picture was Prince Charles. "Ino-News" posted in Russian on a range of platforms, usually providing translations of the English posts.
Most of these personas were active across multiple platforms, including WordPress, Blogspot, Twitter, and Facebook. On Twitter, their posting patterns were strikingly similar and regular, despite the apparent difference in their locations, giving the impression of a team working to a standard shift.
That 8-5 Shift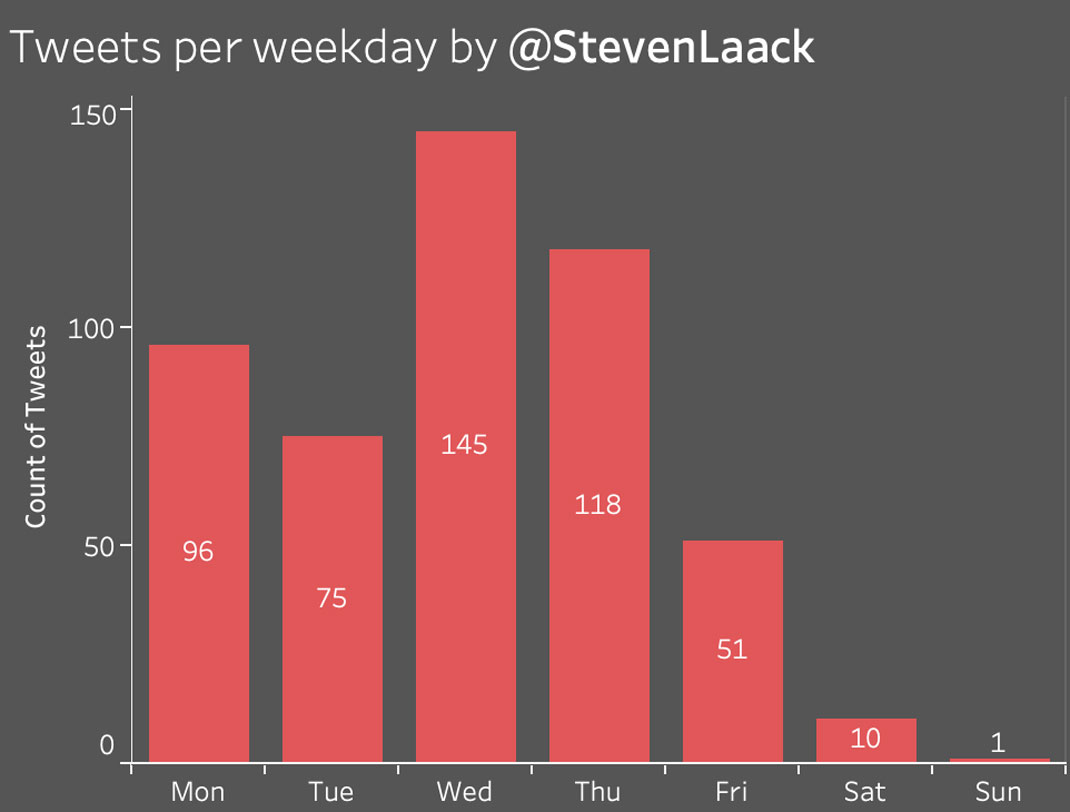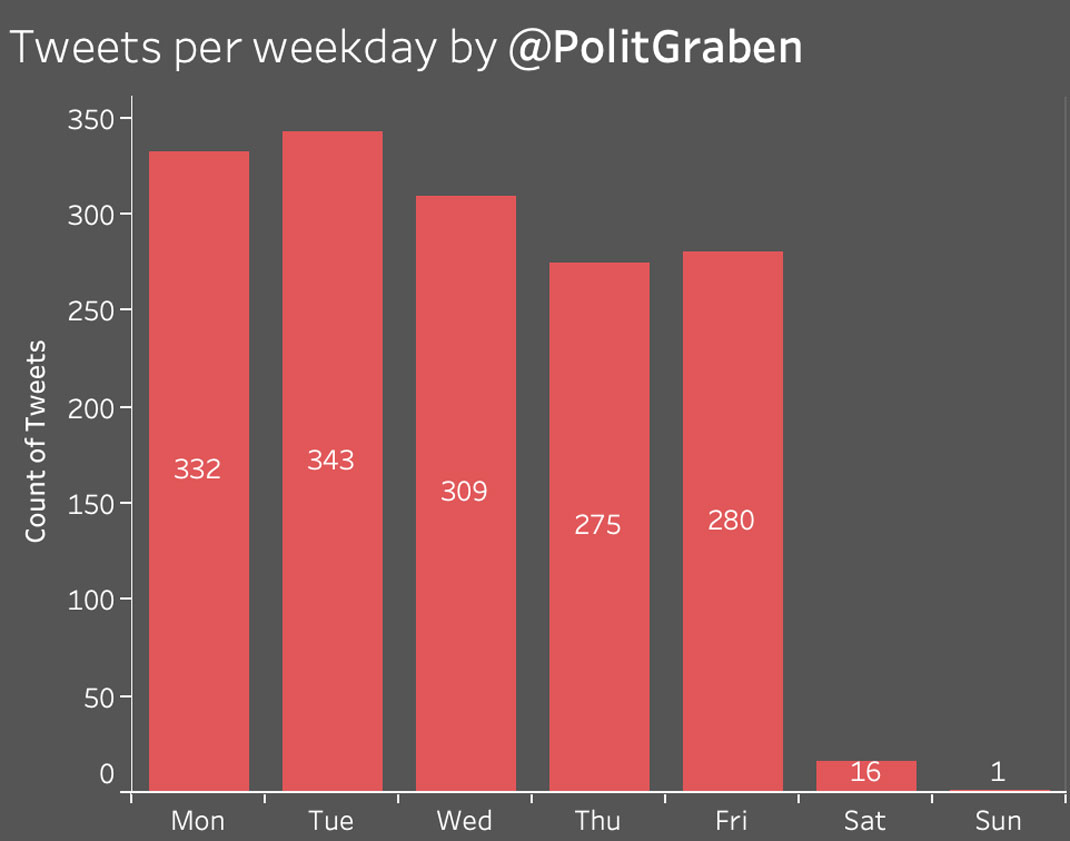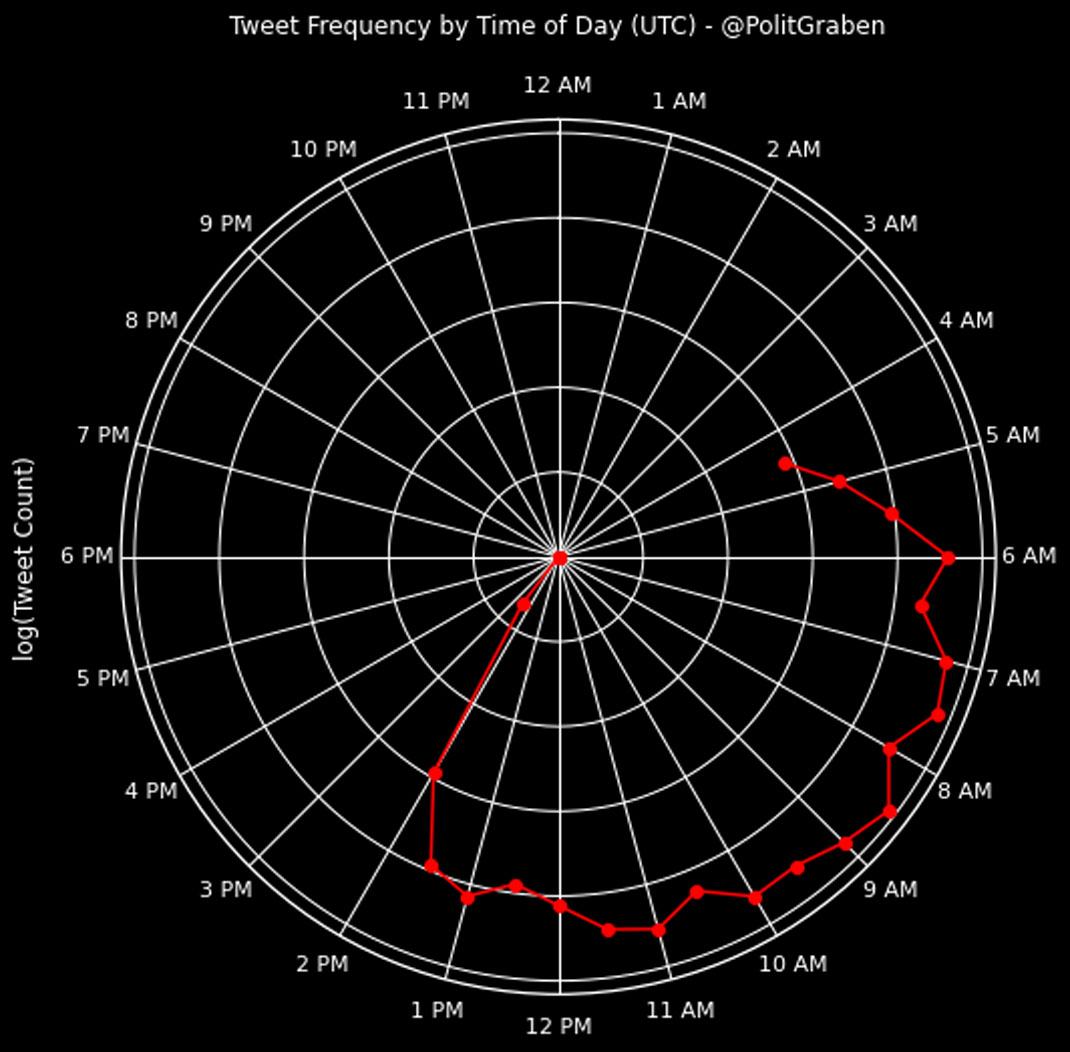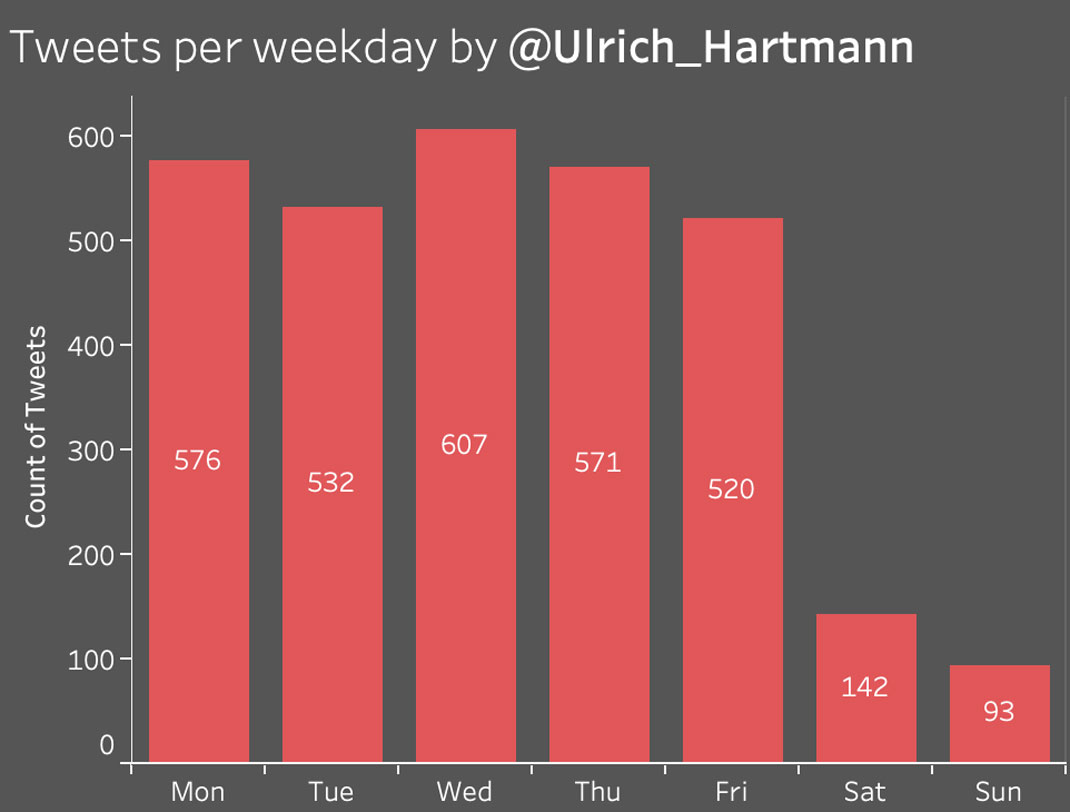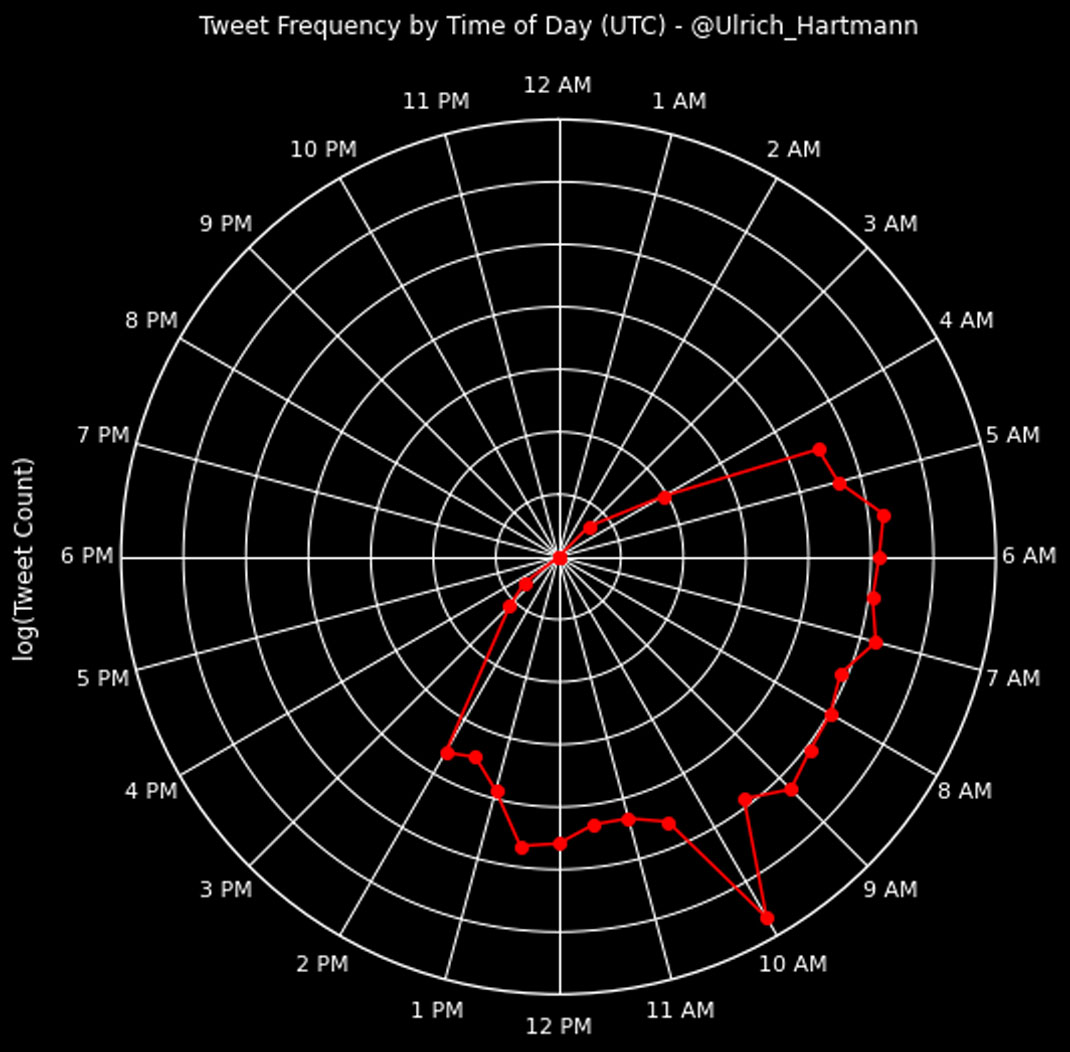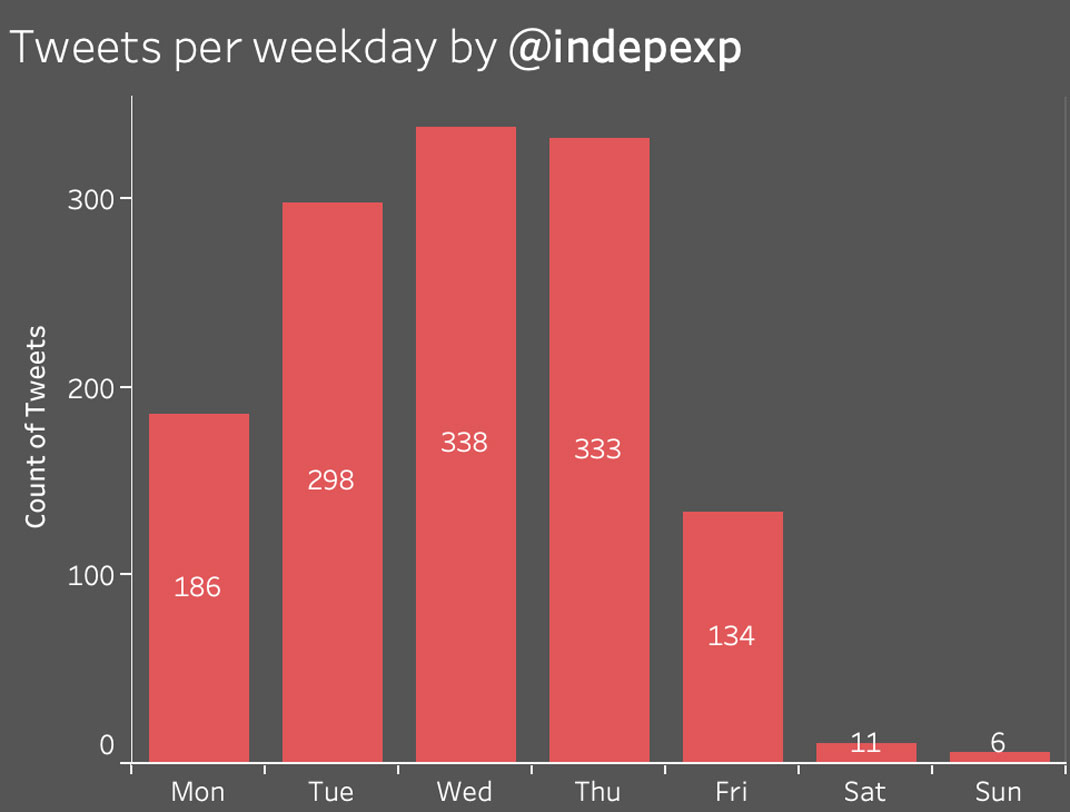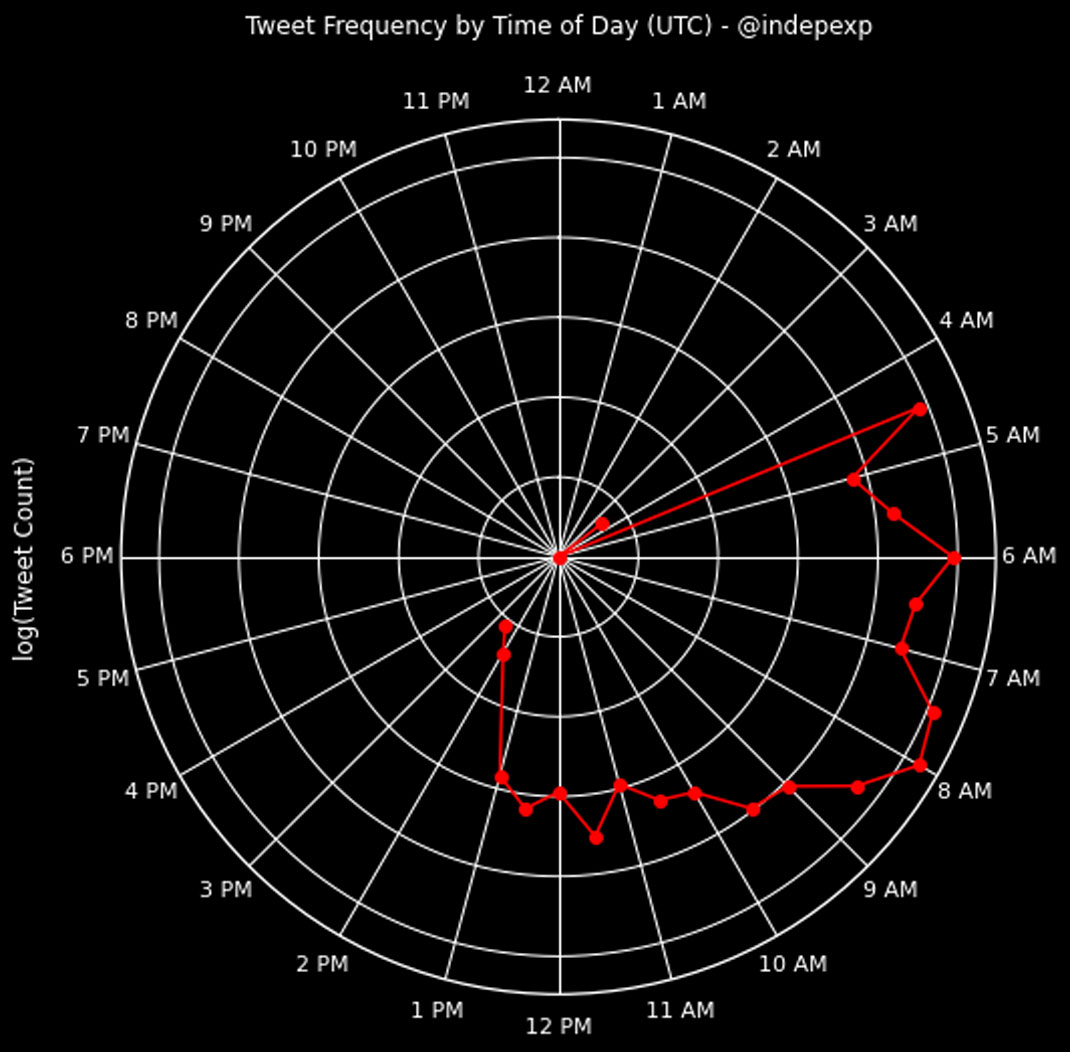 Tweet Counts by Day of the Week on the left, Tweet activity by hour GMT on the right, for (top to bottom) @SteveLaack, @PolitGraben, @Ulrich_Hartmann, and @indepexp; all of the personas analyzed showed a strange pattern for organic users in Central Europe and still more so for users in the United States, but the activity coincides with a morning shift in time zones farther to the east, such as Moscow (GMT+3); they also largely only posted Monday-Friday, with substantially reduced activity on the weekends.
Repeatedly, these personas shared the same stories in different languages, without attributing them to one another; this content originated from single-use burner accounts and was often based on forged documents. For example, on April 6, 2016, a persona called "Dusty L.A." posted the article "Turkey was about to open second front vs. Armenia" on Medium[276] and indymedia.org.uk[277]; the same article appeared anonymously on homment.com the same day.[278] The article was based on a screenshot of an alleged article on a website called ekurd.net, but no trace of any such article remains on the site.[279] (The Secondary Infektion piece claimed that the original article had been deleted.)
On April 8, 2016, the fake screenshot appeared in three locations and languages: in the identical English version on the "Josef Hashever" account on beforeitsnews.com[280]; in a German article on Politgraben[281]; and in Russian on the inonews.info website.[282] On April 11, the "Steven Laack" persona posted the English-language article on scoop.it.[283] All four personas attributed the story to the homment.com burner account.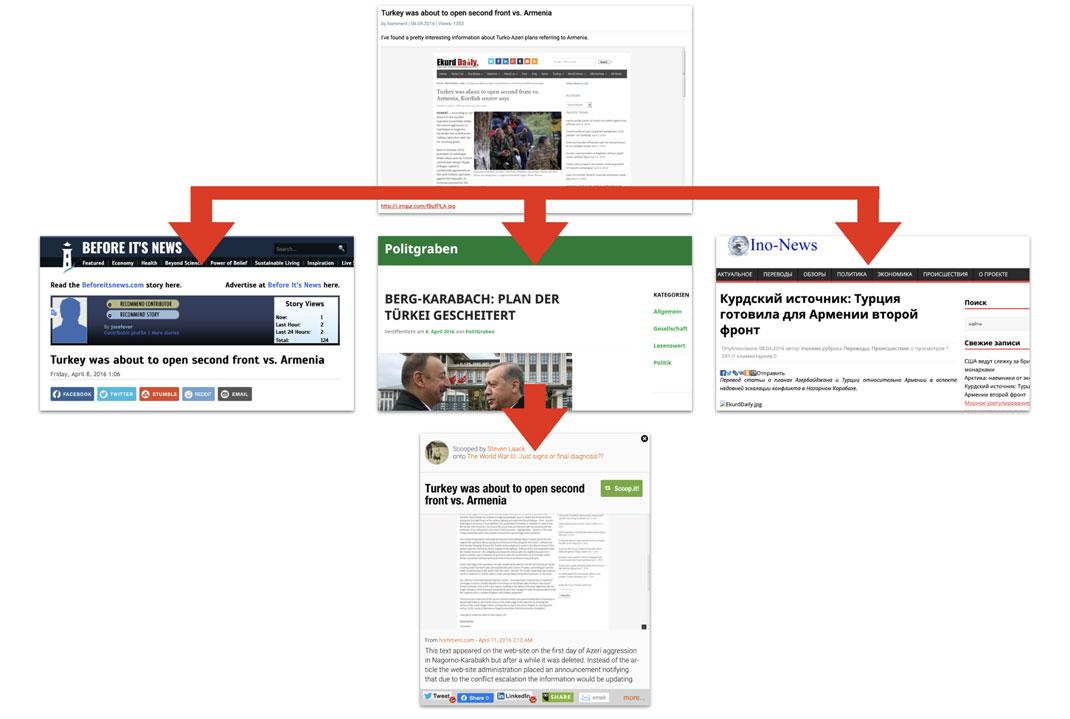 The transmission of the fake story on Turkey's "second front" against Armenia from a single-use burner post on homment.com, to posts the same day by Josef Hashever, Politgraben, and Ino-News, to the scoop.it account of Steven Laack.
As another example, on October 20, 2015, the Twitter account "@Cyber_Legion" tweeted, "#European Integration without the #EU. Nordic dream of Swedish nationalists."[284] The tweet was originally linked to a website that is no longer active, http://cyberlegion.org/european-integration-without-the-eu-nordic-dream-of-swedish-nationalists. The URL was in English, but on October 22, the operation persona Josef Hashever posted an article with the identical headline to "his" WordPress blog and to self-publishing site beforeitsnews.com[285] and claimed that it was a translation from "CyberLegion" in Swedish.
Headline and illustration from the Josef Hashever WordPress blog; note the attribution to a Swedish version of the post at Cyber Legion.
The Cyber Legion article may have been written in Swedish originally, but the fact that the URL was in English makes this unlikely; reverse-searching the image and reverse-translating into Swedish did not show any Swedish versions of the text, although this is not conclusive. The blog argued that the EU model was broken, and that Nordic countries should set up a splinter group:
Ideology that damages economy, unjustified enlargement without due structural reorganization, serving the needs of NATO up to completely accepting the its line of policy [sic], dominance of artificial political correctness over mutual cultural enrichment – these are distinctive features or [sic] the EU today. (...) An advocated by Swedish nationalists hypothetical Northern Republic composed of Sweden, Finland, Norway, Denmark, Iceland and, if possible, Baltic states may not be as absurd as it is portrayed by European Mass Media.
On October 23, the same article appeared on self-publishing website indymedia.org.uk, but this time it was attributed to Anonymous and omitted the reference to Cyber Legion.[286] Three days later, a Russian translation appeared on a number of blogging platforms, including aftershock.news, where it was attributed to operation persona Ino-News.[287] Thus in the space of a week, the story passed through four different personas in two languages, all attributable to Secondary Infektion.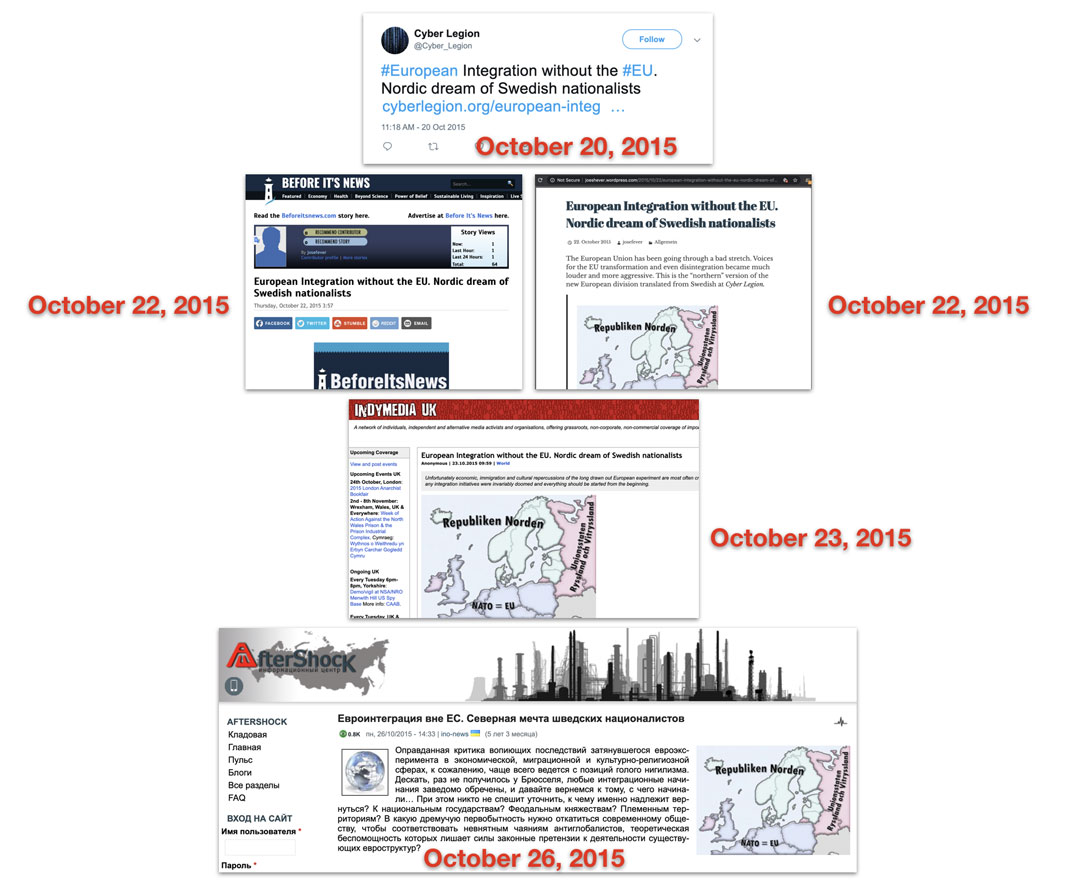 Diagram showing the story's progress from @Cyber_Legion (top), to the two Josef Hashever blogs (second row), to indymedia.org.uk (third row), to aftershock.news (bottom).
These personas constituted a small and self-referential group. They acted as second- or third-stage amplifiers, picking up content from Secondary Infektion's burner accounts and posting it to social media and their own blogs. On occasion, they were picked up in the Russian-language pro-Kremlin media. However, for reasons as yet unknown, they fell silent in mid-2016, and Secondary Infektion shifted even more markedly to using single-use burner accounts.
"Black Defense Foundation"
Perhaps the strangest element of Secondary Infektion's entire operation - an operation that did not lack for bizarre and colorful stories - was the blog blackdefence.wixsite.com, headlined "Black Defense Foundation."[288] The blog advocated not just for African-American rights, but for the community's full independence:
For hundreds of years blacks have tried to assimilate into White America and accept her values and style of life. Our ancestors were brought here in chains – they fought for freedom and they got it. White America and her society rejects us – we will build up our own Black America, and there will be no place for arbitrary powers of white police, white judges and white juries!
The blog was only sporadically active: five posts between January and June 2015, and one post in November of that year (but apparently "part one" of a two-part series whose second part it had already published in January). The content was inflammatory in tone: it even included a video on police violence that compared the US police with wild animals.[289] The video was also posted on YouTube by a single-use burner account, now suspended.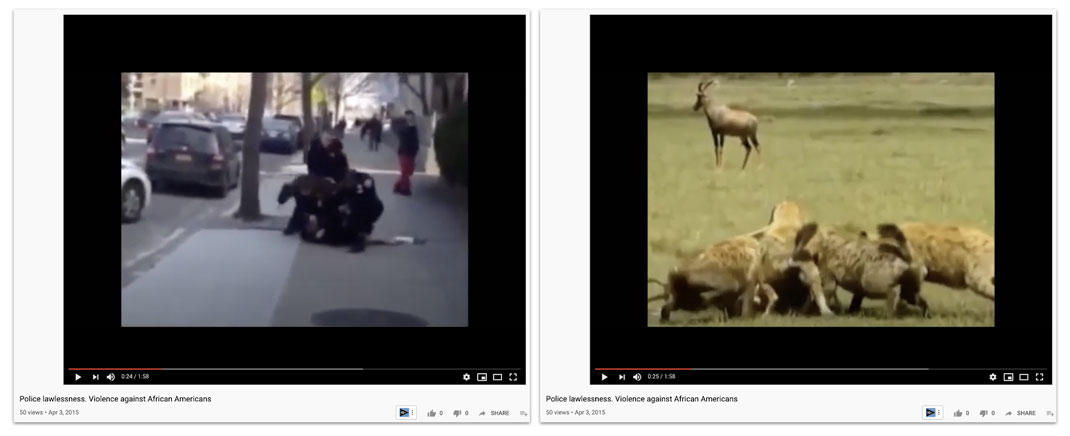 Adjacent stills at timestamp 0:24" and 0:25" from the "Police lawlessness" video, implicitly comparing the police with wild hyenas.
The use of language was aggressive but unidiomatic, bordering on the bizarre. For example, an article posted on January 16, 2015 was headlined "The State of Black America." Its first paragraph read:
The Black America State's Concept is still alive at Afro-Americans' head. And their attempts to defy pigs' orders, mass protests in Ferguson, as well as, demonstration killing of these pigs in New York are links in the one chain. Blacks are tired out with living under oppression of whites, taking their dictation, the how of it has been done by their forefathers at plantations.
The website also included a "Contact" form, encouraging readers to reach out and share evidence of "illegal use of force against Black people." The form suggested the organization may use said material in court. This legal promise, and the organization's reference to the United States as "Our country," are particularly odd given that the "Black Defense Foundation" contact information located the organization in Cuba. The website footer contained an address, which was also shown as a geolocalized pin under the contact form: "Black Defense Foundation, 28 Calle Jose Marti, Habana, Cuba."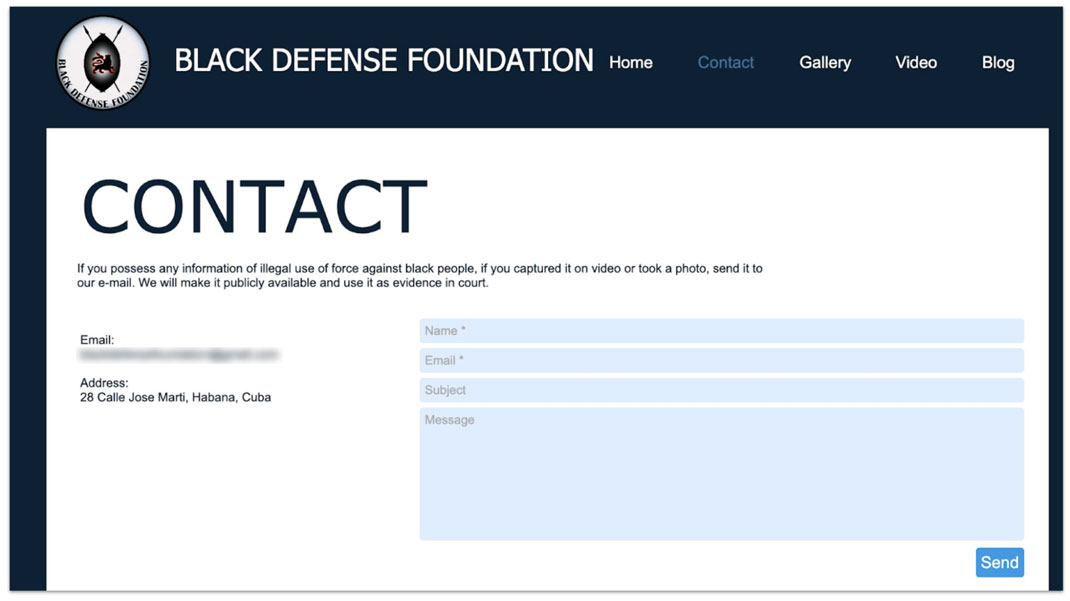 The Black Defense Foundation's "Contact" page.[290]
Typically of Secondary Infektion, one of the website's stories was based on an alleged letter, this time supposedly from Republican Congressman Bob Goodlatte, of Virginia's Sixth District, to the Honorable Todd Richardson, Majority Leader in the Missouri House of Representatives.[291] The letter proposed creating a "public Missouri Police Oversight Committee and allocate at least 35% of seats in it to Afro-Americans." The opening sentence was couched in stilted, unidiomatic English that omitted the word "the" twice and struggled with the genitive; the letter was likely a fake: "US Congress highly appreciates Missouri House of Representatives achievements in easing social tensions in the State."
Overall, the website had minimal impact. By April 2020, the "Police lawlessness" video had gathered fewer than 50 views. The website did not give visitor figures, but none of the posts received any comments. As far as we are able to establish, the "Foundation" was only shared once on Facebook, by Secondary Infektion asset Josef Hashever.[292] An attack on Obama[293] was translated into German by Secondary Infektion asset Ulrich Hartmann.[294] The story about the "letter" from Goodlatte was expanded into an article in English by Secondary Infektion asset Steven Laack.[295] The Laack piece was then translated into Russian by Secondary Infektion asset Ino-News.[296]
It would be an unlikely coincidence that so many of Secondary Infektion's assets happened to find an otherwise unnoticed blog - a blog that just happened to include an apparently forged letter between two senior US politicians that no other news outlet had noticed. We conclude with moderate confidence that the Black Defense Foundation blog was itself created by Secondary Infektion as a brief experiment into amplifying racial tensions in America.
This experiment pushed both sides of the racial divide. As well as the expanded article mentioned above, the Steven Laack persona mentioned the Black Defense Foundation in one more article, but in a much more negative light.[297] On May 5, 2015, "he" quoted the Black Defense Foundation video that portrayed police as wild animals, but juxtaposed it with another one - this time, a video headlined "Black Violence" that compared African Americans with dogs.[298] Like the "police lawlessness" video, this was also posted to YouTube by a single-use burner account.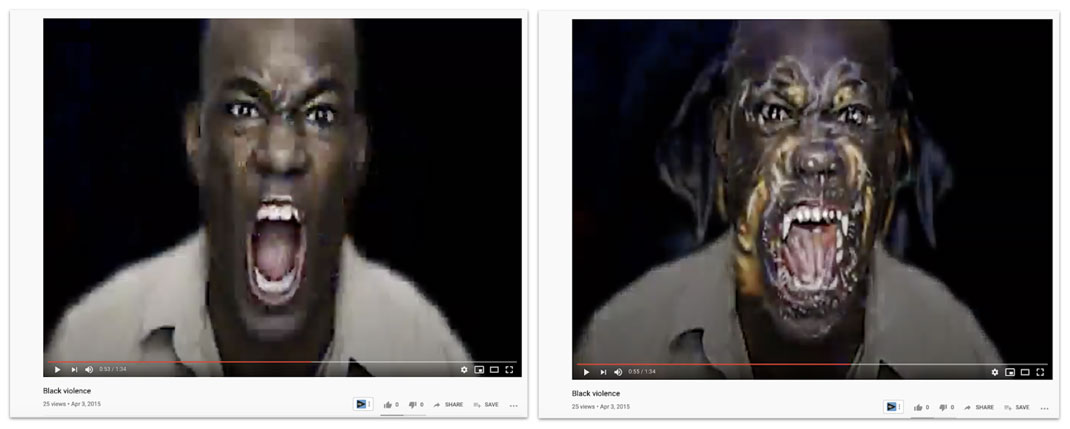 Consecutive screenshots from the "Black violence" video, timestamp 0:53" and 0:54".
The overall article portrayed the United States as verging on a race war and the breakdown of the concept of the nation:
Current events -- Ferguson, Baltimore. I seriously doubt that since now anyone living there and being white would ever want to join and work in local police. I guess very soon the already small population of white people will hasten to move somewhere away from these places – somewhere, where they'll feel safe at least. White people are already leaving Texas, California, Arizona ... Anglo-Saxon culture steadily moves to the North. 'Black America' begins to manifest itself more clearly on the map - 'other' country with its own 'other' rules.
The "Black Defense Foundation" was a brief and ineffective effort. It is of interest for the attempt it shows to exacerbate racial divides in the United States. Secondary Infektion did not repeat the effort after 2015, but the Russian IRA did, repeatedly.