The Techniques
One Operation, Many Platforms
From the beginning, Secondary Infektion was a uniquely cross-platform operation. Its earliest and most prolific persona, the "Blue Man" (described below), ran accounts on six Russian-language blog forums, and that was only the start: as of April 2020, Graphika had identified posts by the operation on over 300 platforms and forums, ranging from mainstream social media platforms like Facebook, YouTube, and Twitter to discussion forums from Azerbaijan to Australia.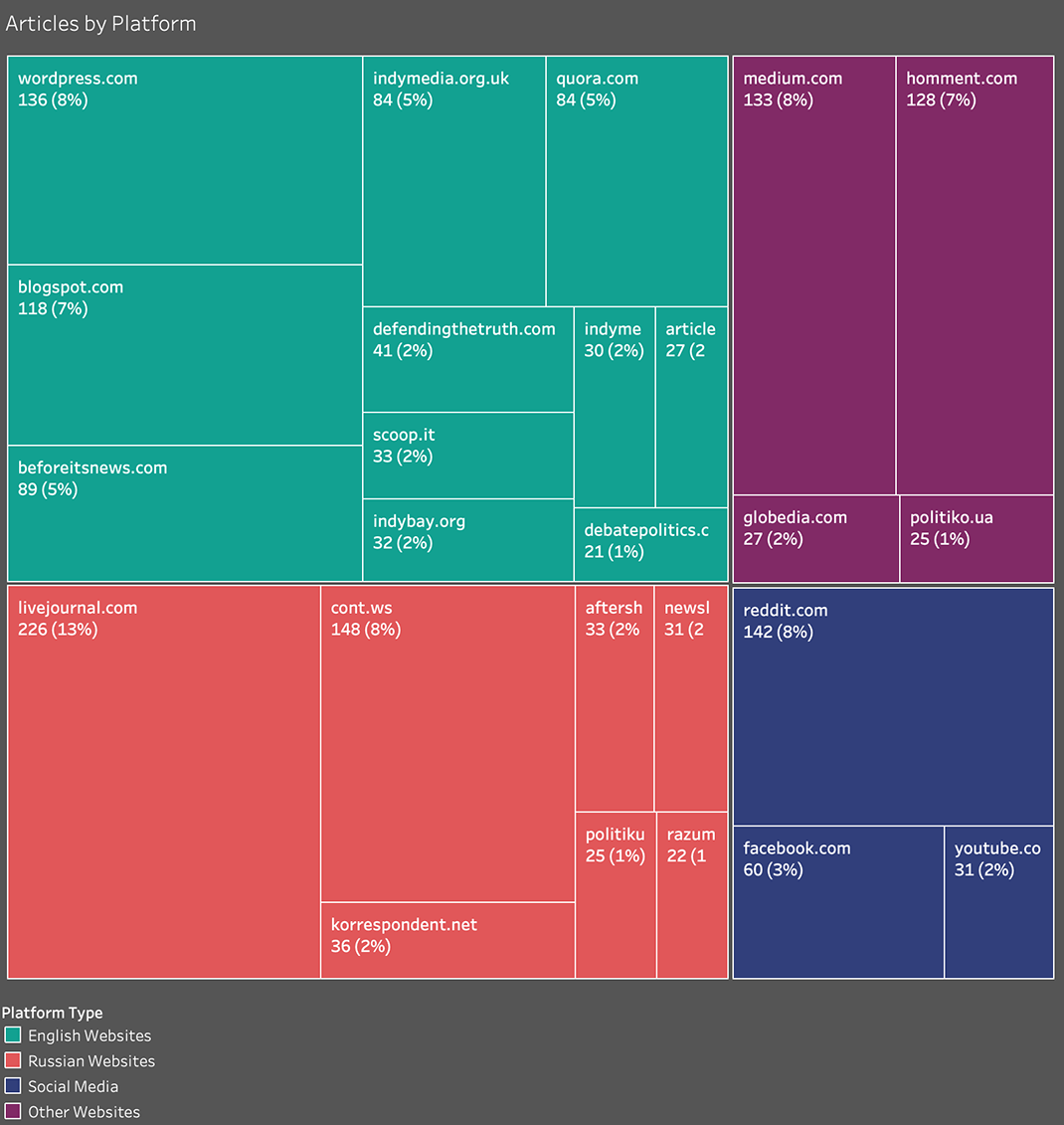 Use of platforms: where Secondary Infektion posted the most.[179]
Its range expanded as the operation progressed. It started in Russian on LiveJournal in early 2014 and added English- and German-language personas and burner accounts on BlogSpot, Twitter, and YouTube later that same year. It spread out rapidly in the second quarter of 2015, adding in many of the forums that came to characterize it, notably WordPress, Reddit, Medium, Before It's News, and the Russian-language cont.ws. As these came to the fore, its emphasis on LiveJournal decreased: Medium played a particularly important role in 2016, while Reddit was prominent among its choices in 2017-2018.
The breakdown of platforms varied between languages. Secondary Infektion posted to the largest number of platforms in Russian, choosing not just Russian-based platforms, but forums across the former USSR, such as stena.ee (Estonia), amigos.lv (Latvia), dosug.md (Moldova), and yvision.kz (Kazakhstan). Its English-language choices were slightly more restricted but ranged from global giants to fringe forums such as dover.co.uk (Dover, in England), cssforum.com.pk (the Pakistani civil service), and ozpolitic.com (Australia). In Spanish, the operation only used a few platforms, notably Reddit and burbuja.info (ostensibly dedicated to real estate).
Sometimes Secondary Infektion abandoned certain forums, such as indymedia.co.uk, last used at the end of 2016, and articlesreader.com, used in 2016-2017; its presence on BlogSpot and YouTube also dropped off sharply after mid-2016. Overall, however, the trend was for an increasing number of platforms. It was only after the operation was exposed in May-June 2019 that its posting and use of platforms temporarily collapsed.
Platform Evolution
The evolution in platforms and posting patterns gave Secondary Infektion an increasing ability to spread its content to ever further corners of the internet. This did not typically translate into increased engagement, at least so far as we have been able to observe, but it indicates an operation that was aggressive in its attempts to reach an audience. This is best expressed by comparing posts from the operation's earlier and later stages..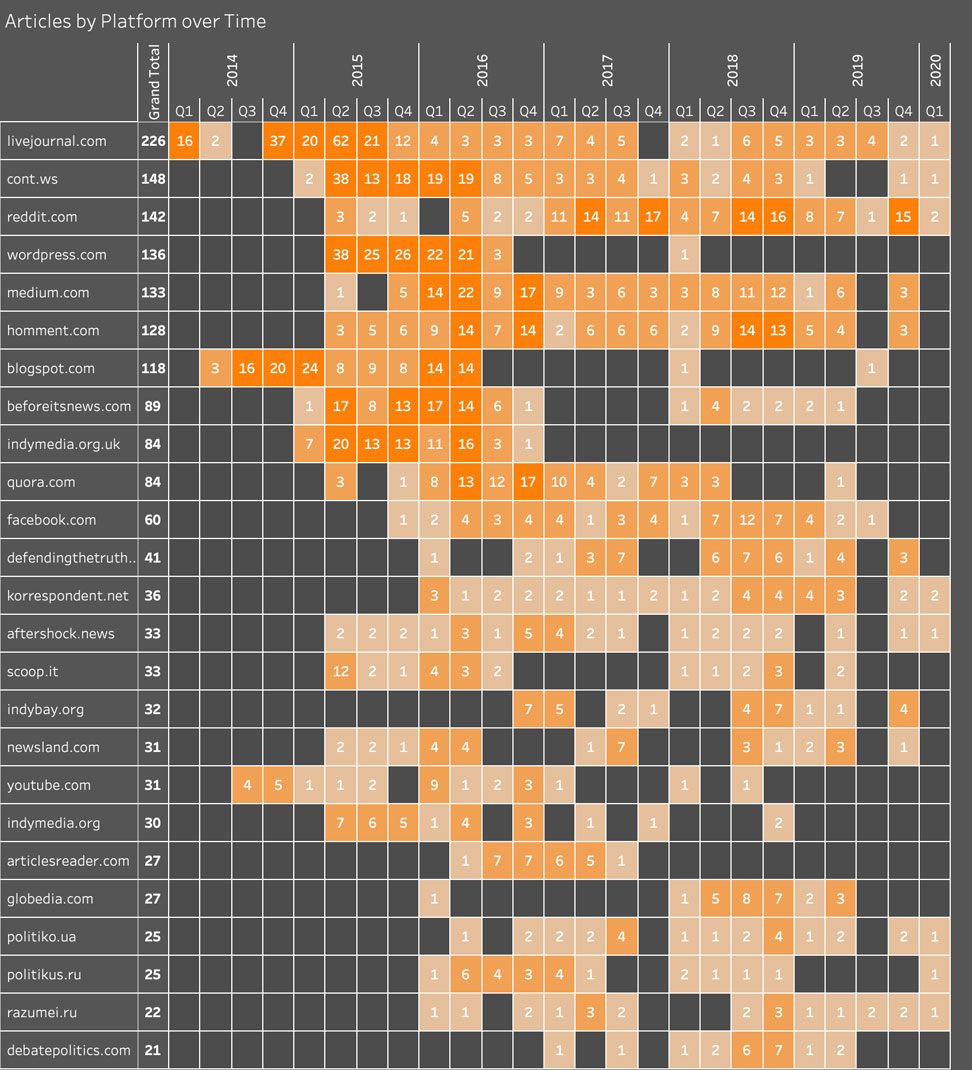 Secondary Infektion's evolution across the top 25 platforms where it posted.
For example, on May 25, 2015, an anonymous poster published an article on cyberguerrilla.org headlined, "United States to nominate Ukrainian President Poroshenko for a Nobel Peace Prize."[180] The cyberguerrilla.org article embedded a YouTube video (now removed) with the same headline: this featured a man's computer-distorted voice reading out the text of the cyberguerrilla article against a backdrop of archive footage.[181]
The article presented a screenshot of a letter attributed to the then-Speaker of the Ukrainian Parliament, Volodymyr Groysman, and addressed to the US Ambassador to Norway, Julie Furuta-Toy. In the letter, "Groysman" asked the ambassador to "exert additional leverages" on the Nobel Peace Prize committee to ensure that Poroshenko won it. The initial spread of this story was exclusively through posts and accounts attributable to Secondary Infektion, leading us to conclude that the letter was a forgery launched online by the operation.
The same article appeared anonymously on homment.com on May 27, 2015,[182] with a link to the cyberguerrilla.org article embedded. The following day, a German translation appeared on websites that included ask1.org[183] and the German section of indymedia.org,[184] and a Russian translation appeared on platforms including cont.ws[185] and X-True.info.[186]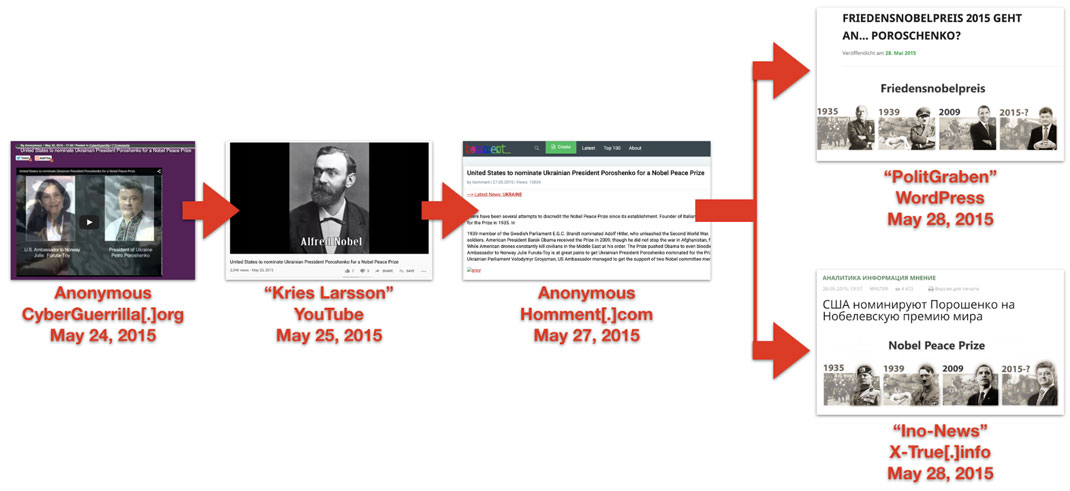 The transmission of the "Nobel" claim by assets run by Secondary Infektion, from cyberguerrilla[.]org, YouTube, and homment[.]com in English, into German and Russian, using the personas "Anonymous," "Kries Larsson," an unnamed post, "PolitGraben," and "Ino-News."
This was already a multi-platform and multi-language operation, but it was relatively limited in scope. In 2018, by contrast, Secondary Infektion was operating across far more platforms. On June 4, 2018, the operation posted a Medium article headlined, "Silence commanded. People in Sweden are incensed by London's pressure on scientists" from a single-use burner account.[187] The article accused the United Kingdom of pressuring Sweden and Israel to confirm that Russia had poisoned Sergei Skripal in Salisbury, "despite the obvious invalidity of London's position that only Russia was able to produce and use this chemical agent."
The same day, a user called "Peterblom," or variants on that name, posted the identical article to the BuzzFeed forum (since deleted),[188] thestudentroom.co.uk,[189] scoop.it,[190] defendingthetruth.com[191] and homment.com.[192] On June 5, a single-use burner account called "Tiagorivas" posted a Spanish translation on globedia.com[193] and burbuja.info.[194] On June 21, a Ukrainian-language account, Михайло Дричак (Mikhailo Drichak), posted a translation of the Medium article to blogs including korrespondent.net,[195] pero.org.ua,[196] and blog.i.ua.[197] While far apart in time and space, these were all the work of the same operation, based on a single forged document.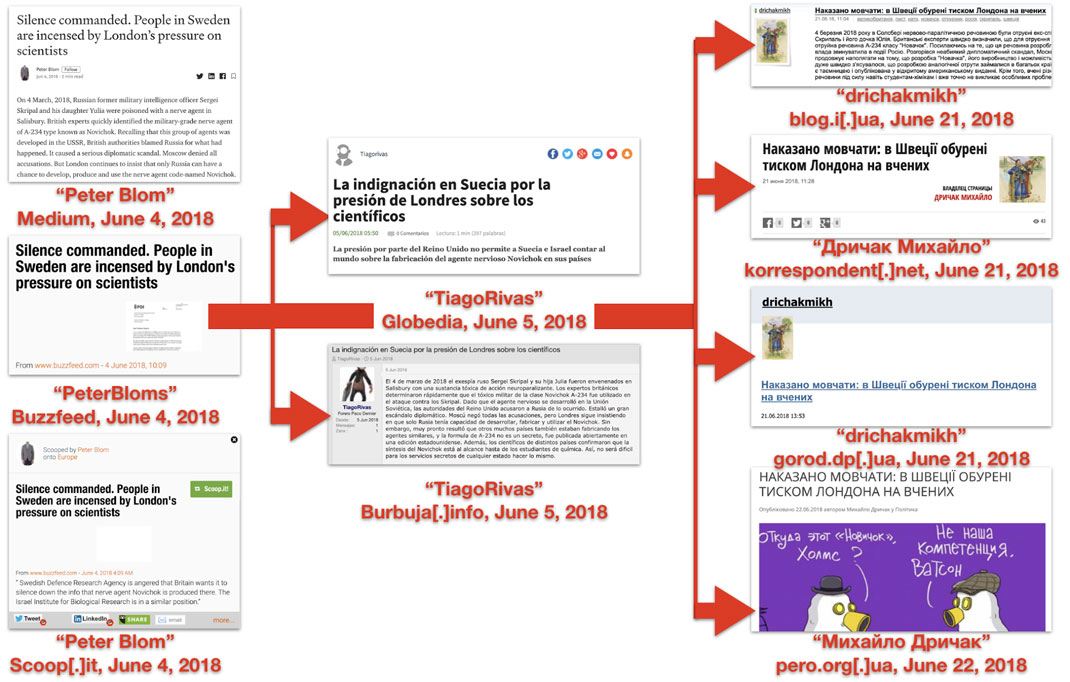 A simplified diagram of the spread of the article by assets commanded by Secondary Infektion, from the English-language persona "Peter Blom" or "Peter Bloms" (left), through the Spanish-language persona "Tiago Rivas" (center) and the Ukrainian-language persona Михайло Дричак ("Mikhailo Drichak"), right.
English Outlets
Secondary Infektion used a wide range of English-language forums. Some served as primary locations, where the operation posted its initial stories: Medium was chief among these, most likely because it provided a visually attractive platform with a simple user interface and a reliable way of uploading and hosting images - an important point for Secondary Infektion, which relied on forgeries for so much of its work. Others served as secondary amplification points, where burner personas could share links to the original stories in special-interest groups. Reddit and Facebook were important in this regard. The operation used a handful of Twitter accounts in its early years, but largely dropped these as it shifted more exclusively to using burner accounts.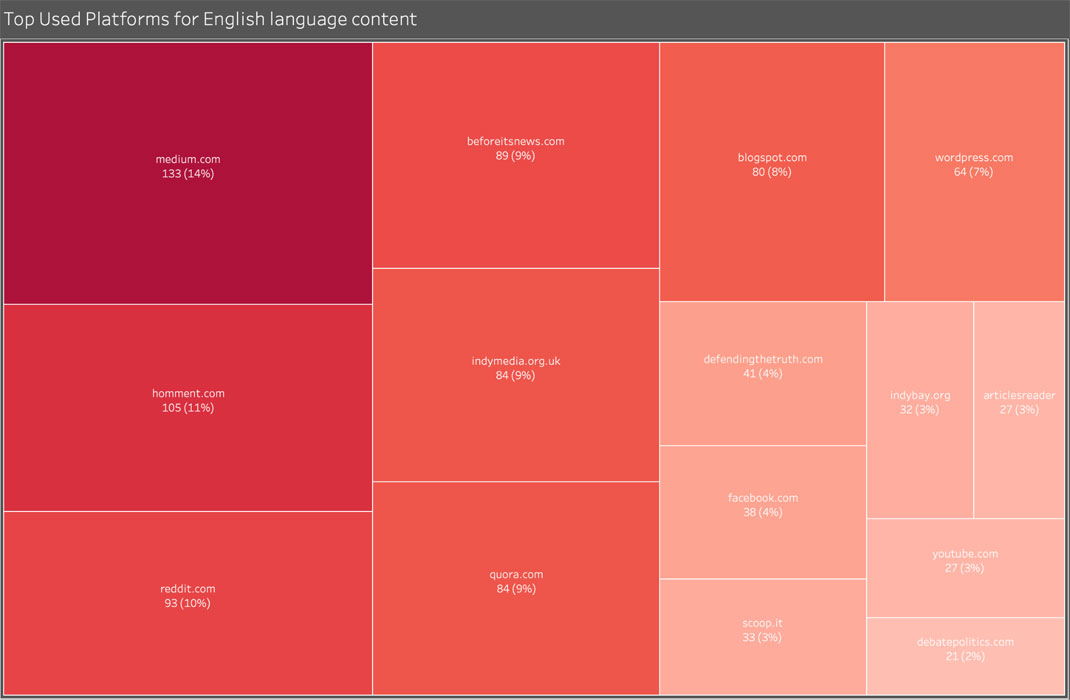 Top 15 platforms where Secondary Infektion posted in English.
Buzzing BuzzFeed
Secondary Infektion paid particular attention to the BuzzFeed Community forum, an unmoderated, user-generated forum that allowed the operation to share URLs containing a "BuzzFeed" link (in reality, BuzzFeed's news content is primarily hosted on a slightly different domain, using buzzfeednews.com instead of buzzfeed.com). Infektion paid particular attention to the BuzzFeed Community forum, an unmoderated, user-generated forum that uses the same top-level domain as BuzzFeed's regular news reporting. Secondary Infektion submitted stories to this forum in English and then pointed back to them from other posts in multiple languages. Sometimes, the operation attributed these stories to BuzzFeed itself. The use of the BuzzFeed Community thus seems to have been an attempt to increase the operation's legitimacy by acquiring a URL starting with "buzzfeed.com."
Three Secondary Infektion posts on a fake "interview with an MI6 agent" that the operation originally planted on the BuzzFeed Community forum.[198] The "interview" claimed that MI6 had interfered in the US election to prevent Donald Trump's victory. The top image shows the original post. The lower left and right images show the follow-on articles in French [199] and German,[200] saying that BuzzFeed itself had attributed the "election interference" to MI6.
Russian Outlets
Secondary Infektion was also a prolific poster across Russian forums. As with its English-langage targets, the portfolio of forums it used grew with time. For the benefit of users unfamiliar with the Russian blogging environment, we describe the main platforms in the appendix.
Top 15 platforms where Secondary Infektion posted in Russian.
This Russian-language content should not be overlooked. The very first posts we have identified from the operation were in Russian and targeted the opposition, especially those around Alexei Navalny, who focused on corruption. After the exposures of 2019, the operation appears to have all but stopped its English-language activity but to have continued posting in Russian.
It is an important reminder that one of the most consistent targets of Kremlin influence operations, if not the most consistent, has been the Russian population itself. Political influence operations begin at home, and any accusation that "the Russians" used Secondary Infektion to attack the West should be met with the fact that "the Russians" were among its targets.
Range of Languages
Secondary Infektion started in Russian but it quickly branched out: by the end of 2014 it was already running personas in English and German as well.[201] These three languages remained the backbone of its activity, but with time, it added Spanish, Ukrainian, and French to the mix. Sporadically, the operation also posted in Swedish, and Graphika also identified a very small number of posts in other languages that appeared to be translations of the operation's work.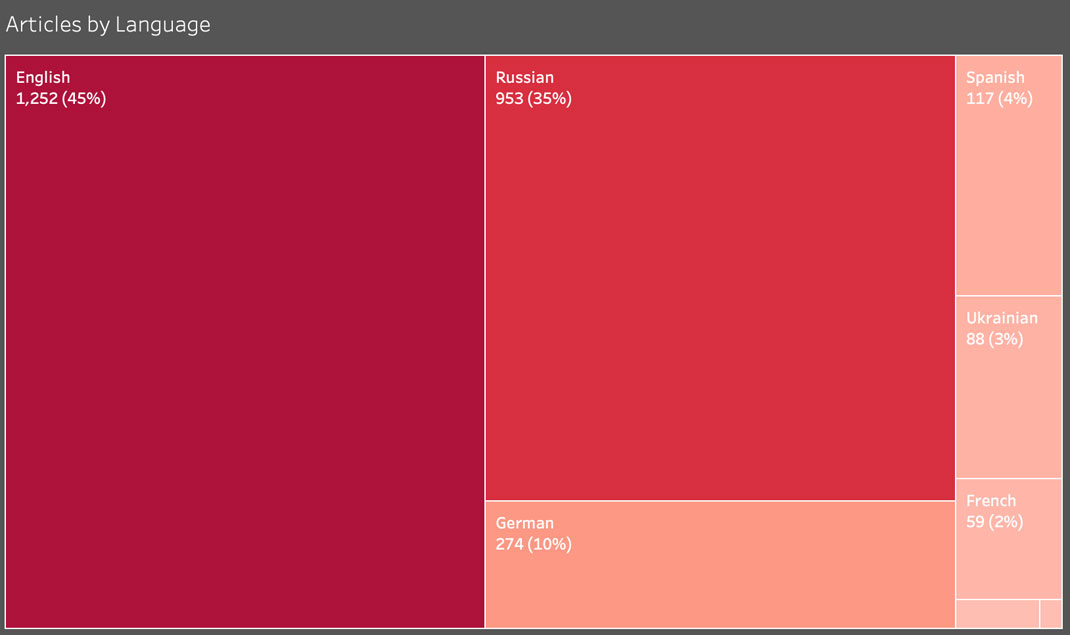 Secondary Infektion posts by language.

Secondary Infektion language breakdown over time.
In all except Russian, the writing was marked by errors not characteristic of a native speaker but too fluent to be the product of a machine translation. This suggests that Secondary Infektion had some form of access to content creators in at least seven languages, a likely indicator of the resources at its disposal. It is also one probable reason why Secondary Infektion's products routinely failed to gain traction in any language other than Russian.
One significant question around the operation is why it focused on this set of languages. English and Russian were obviously crucial for external and internal audiences. Spanish was useful internationally, and German and French were important in Europe (there was no indication of attempts to target French-speaking communities in Africa). But there was no systematic posting in Italian, Polish, or Arabic that we have been able to identify with high confidence; there were posts in Swedish, but apparently neither Finnish (closer to Russia) nor Norwegian (bordering on Russia and a NATO member). This returns us to the biggest questions of Secondary Infektion: Who was behind it, and what were they trying to achieve?
High OPSEC and Burner Accounts
Secondary Infektion stood out for its attention to OPSEC. Multiple platforms working alongside our team on this investigation have confirmed the operation's systematic use of technical obfuscation techniques, such as the systematic use of proxy servers and internet-based phone numbers and the obfuscation of their language settings. Open-source investigation showed that the operation made massive use of single-use burner accounts, especially from mid-2016 onward. Such burner accounts made it difficult for investigators to move from one Secondary Infektion story to another, as they left no technical clues and almost no content clues. The operation ran through literally hundreds of such accounts that it created, used, and immediately abandoned in the space of a single day, or even a single hour.
This increasing dominance of burner accounts held true across languages and platforms. It is most easily observed on Reddit, which provides precise time and date information for the creation of accounts and posts, but the same pattern applied across every platform that provided a creation date for its accounts.
For example, one story of the 2016 vintage claimed - based on an apparently forged letter - that Ukraine was lobbying for former prisoner of war Nadya Savchenko to be nominated UN Secretary General. On Reddit, this was posted by a persona called "u/AokPriz" at 09:26:57 UTC on June 8, 2016.[202] According to online tool redective.com, "u/AokPriz" was created just under 14 minutes earlier, at 09:13:05 UTC that morning,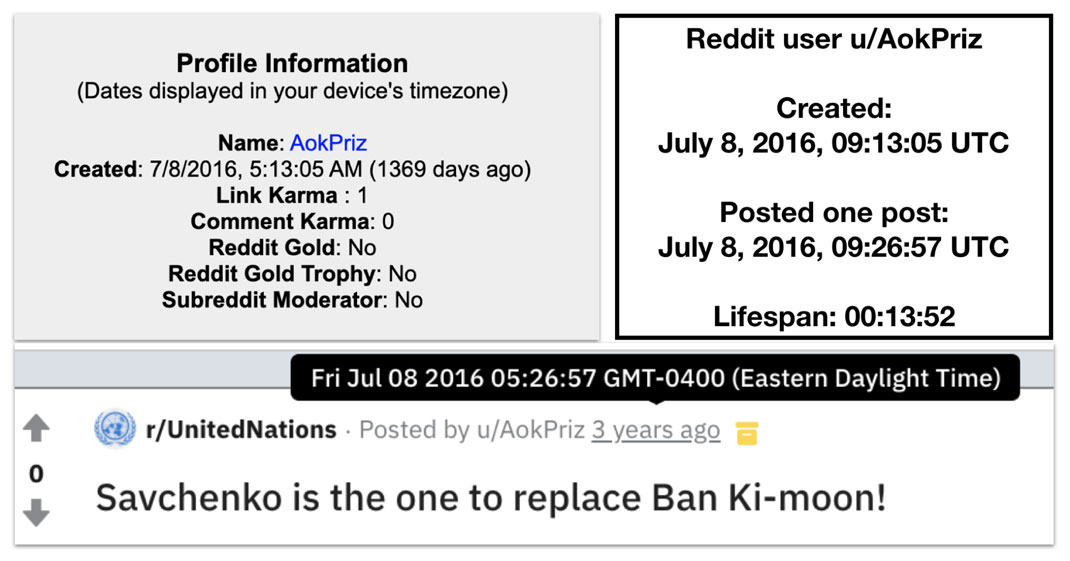 Top left, profile information for u/AokPriz, showing the date and time of its creation, from redective.com. Bottom, the time and date of its only post, less than 14 minutes later. Top right, the account's life story, converted into Universal Time.
A story of the 2018 vintage, based on a forged screenshot from security analysis company Stratfor, claimed that the United States was concerned about an influx of Chinese spies.[203] This was translated into German and placed on a number of websites, including one called chinaseite.de (its name literally means "China page").[204] Chinaseite.de shows the date and time at which an account was created and the date and time at which the user was last online. In the case of this account, its entire life lasted just seven minutes.

Profile information for "jalindner" on chinaseite.de. The statistics in the inset typify Secondary Infektion's approach: "Registered: 28.08.2018, 12:03. Last activity: 28.08.2018, 12:10. Total contributions: 1."
Burner accounts like these were Secondary Infektion's pawns on the disinformation chessboard: numerous and disposable, but limited in effectiveness. Creating a new account for every post contributed to the operation's tight OPSEC, but it put the operators in the position of having to build a new audience from scratch with every single post. None of its attempts to target interest groups and niche communities could overcome the fact that its accounts had no personality and no posting history and almost invariably posted documents that were palpable fakes.
Use of Forgeries
Very often, though not exclusively, Secondary Infektion based its articles on "leaked" documents or publications that it appears to have forged itself or to have acquired from other forgers for its exclusive use. The range of documents included letters (the most common form of forgery, especially in Ukrainian), emails, blogs, news articles, websites, social media posts, and even petitions. These "leaks" were typically embedded in the text of the article, usually via an image hosting site such as Imgur; sometimes, the platform in question could not handle the image, leaving a thumbnail or a raw URL instead of the picture. Quality control was not one of Secondary Infektion's defining features.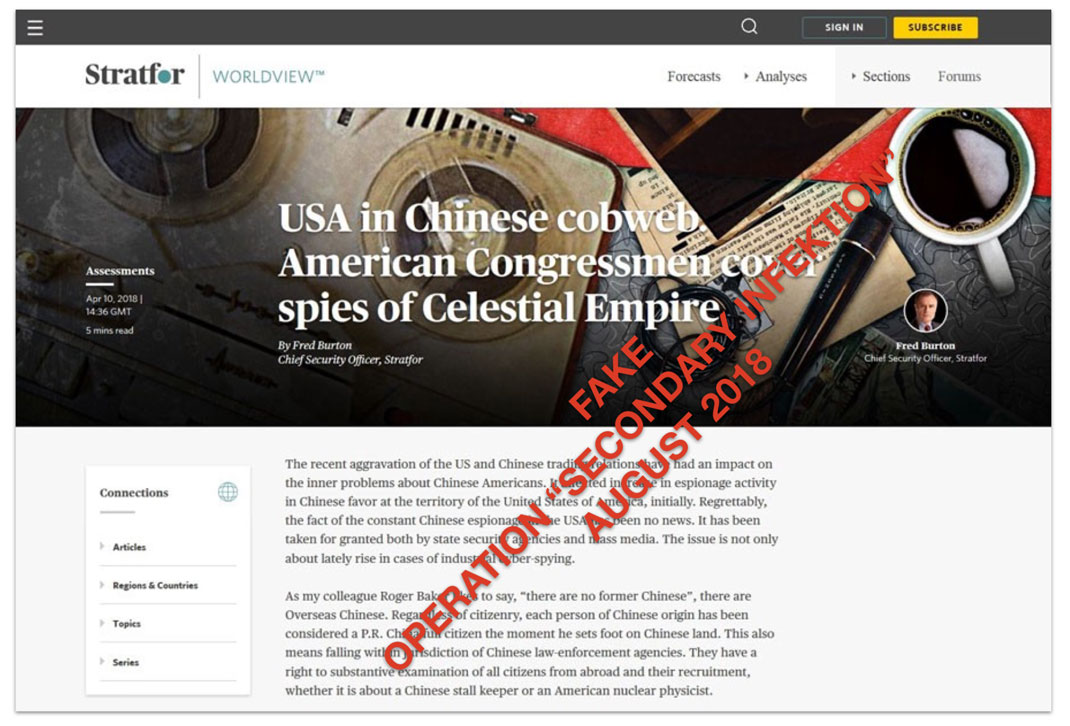 Article attributed to American strategic analysis firm Stratfor alleging US concerns over Chinese spying. The headline, "USA in Chinese cobweb," is an unidiomatic turn of phrase and does not appear anywhere on the Stratfor site.[205]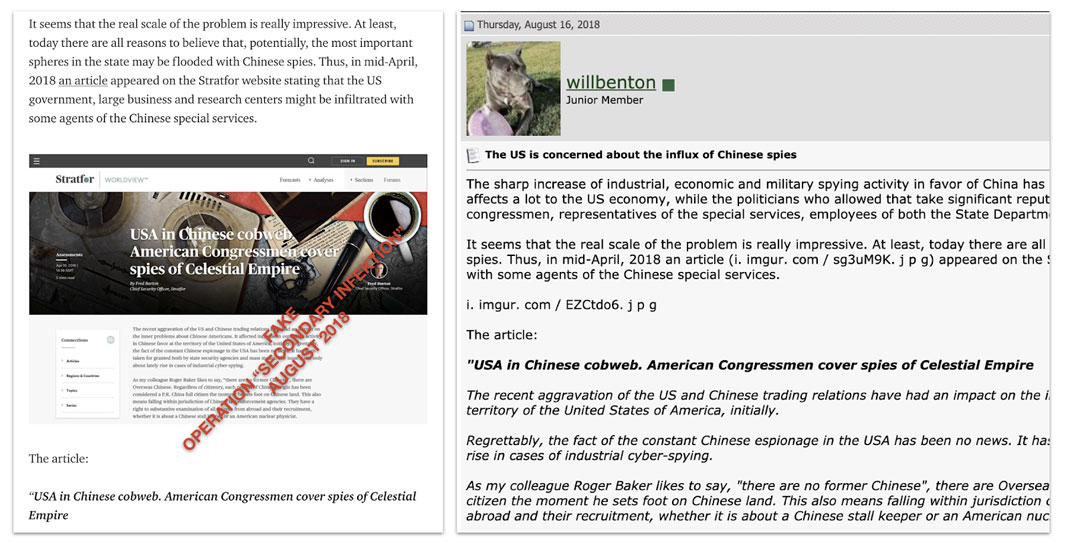 Left, the fake Stratfor article embedded into a Secondary Infektion Medium post.[206] Right, the same article on cssforum.com.pk, one of the more unusual sites that Secondary Infektion used (it is dedicated to the Pakistani civil service).[207] Note how the image failed to display in the right-hand post, leaving the bare Imgur link visible.[208]
Sometimes, the forgeries involved multiple levels of deception. One "screenshot" published on September 18, 2018 featured a view of a Reddit page that contained a summary of an article attributed to British tabloid the Daily Mirror.[209] The article, in clumsy English, stated that British intelligence had wiretapped US President Donald Trump's attorney, Rudy Giuliani, as he exposed a secret deal with Britain's Conservative party under which Britain would make Brexit "as tough as possible" and would make Boris Johnson prime minister, in return for a sweeping trade deal with the United States. A search on Reddit showed no results for the alleged headline,[210] and a Google search for the term returned no verbatim matches.[211] We conclude that the Reddit post and the Daily Mirror article were both fakes created by Secondary Infektion to provoke accusations that the United States was interfering in British politics.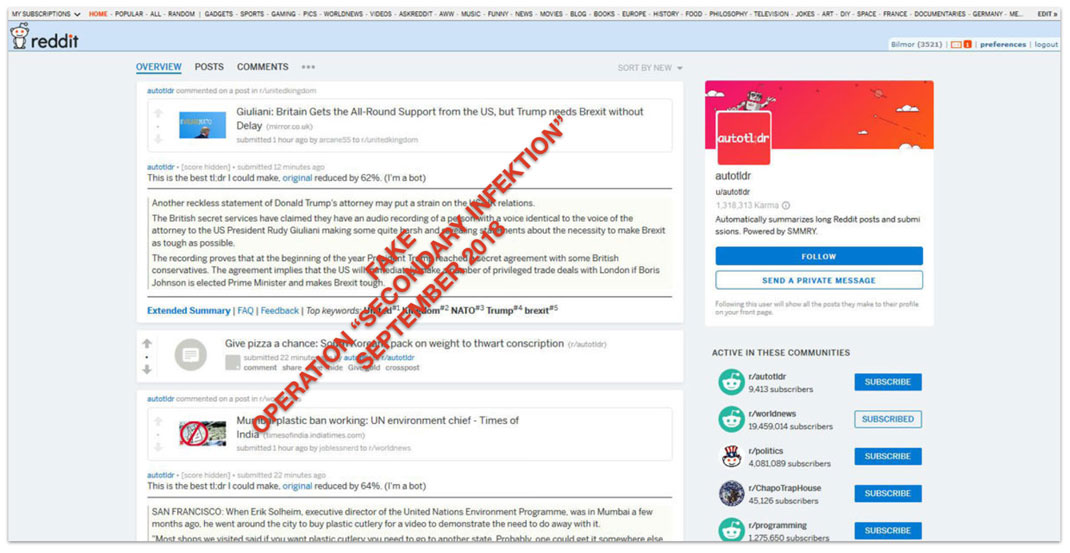 Secondary Infektion post of an alleged screenshot of a Reddit post, featuring a further screenshot of an alleged article in British tabloid the Daily Mirror. Neither the Reddit post nor the Mirror article ever existed.
Similarly, in October 2017, just after Germany's federal parliamentary elections, Secondary Infektion planted the story that the victorious Christian Democrat party (CDU) had only won because millions of newly naturalized immigrants voted for it.[212] The article was based on a screenshot of a tweet attributed to the former director of the OSCE's Office for Democratic Institutions and Human Rights (ODIHR), Michael Georg Link.[213] The tweet, in turn, embedded a photo of an apparent ODIHR report that claimed 98 percent of recent citizens had voted CDU. However, the genuine ODIHR report made no such claim,[214] and Link's timeline showed no sign of any such tweet.[215] Both the screenshot and the document are most likely forgeries.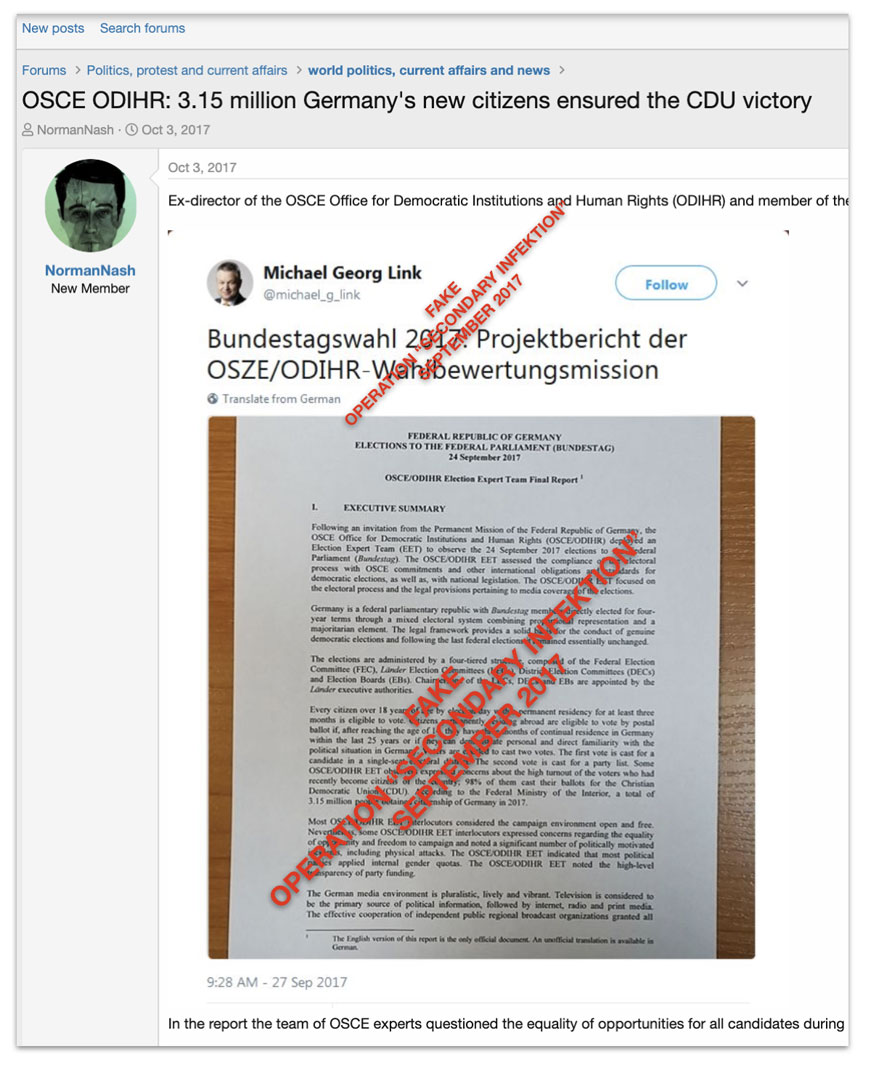 Secondary Infektion article embedding a forged tweet which embeds a forged OSCE election report.
Many of these forgeries, especially those that were not in Russian or Ukrainian, betrayed themselves by basic errors. One purported letter from the Spanish Foreign Minister, alleging that extremist Remainers in the United Kingdom were plotting to assassinate Boris Johnson to stop Brexit, misspelled the minister's name in his signature block.[216] Another letter, signed by the "Director General of Swedish Defence Research Agency (FOI) Jan-Olof Lindt," accused the United Kingdom of trying to force allied countries to state that only Russia could have poisoned former Soviet agent Sergei Skripal with nerve agent in April 2018.[217] This may have come as a surprise to the actual head of the FOI at the time, whose name is Jan-Olof Lind.[218]
Even without such basic errors, the forgeries often betrayed themselves by using forms of language that did not match the purported author, such as basic errors in grammar and idiom. For example, one English-language article attributed to the UK's former Attorney General Dominic Grieve accused Georgia of being unready for EU and NATO membership.[219] The article was based on a doctored screenshot of an article on UK domestic politics that Grieve had published in Prospect magazine.[220] This was couched in stilted and unidiomatic English unlikely to flow from the keyboard of the UK's former Attorney General: "Considering that stability of the foreign policy is pivotal when estimating democracy development in that country, improvement in relations of Russia and Georgia may seriously hinder the effective cooperation of Tbilisi with the European Union and with NATO."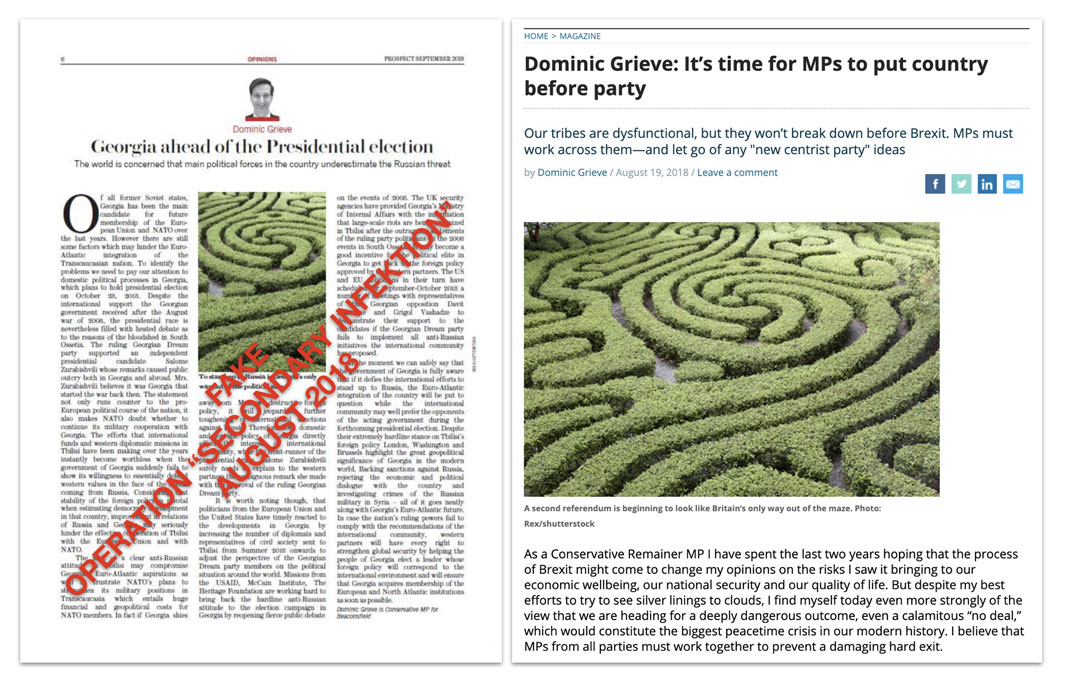 Left, the fake by Secondary Infektion. Right, the original article from the Prospect website. Note the identical image in both.
Similarly, a letter attributed to US Senator Bob Corker in 2015 contained clumsy, unidiomatic formulations such as "The United States Senate Committee on Foreign Relations is deeply concerned by repeated failures of Ukraine to adhere to previously reached agreements." [221]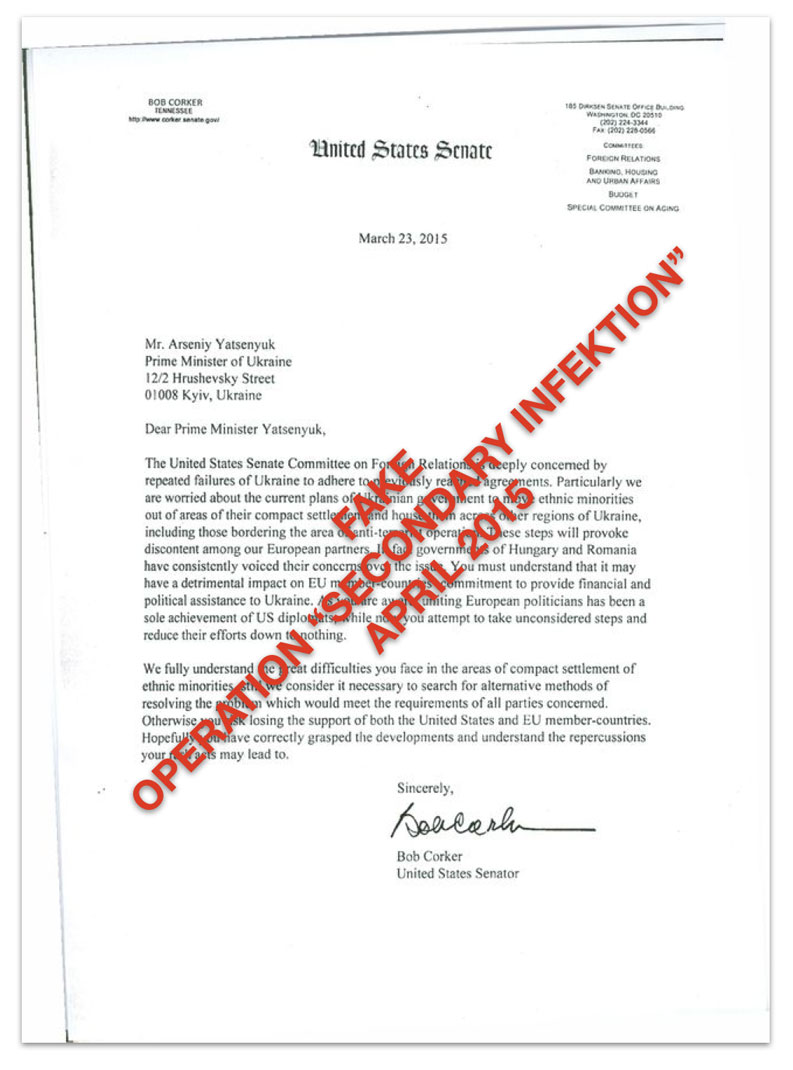 The letter attributed to US Senator Bob Corker and addressed to then-Ukrainian Prime Minister Arseniy Yatsenyuk, accusing the latter of provoking ethnic tensions in Ukraine.
Sometimes, the people whose identities were forged discovered the forgeries themselves and called out their errors. For example, one Secondary Infektion article posted on March 24, 2016, claimed that Ukraine's then-Finance Minister Natalia Jaresko had written to then-US acting Assistant Secretary of State for European and Eurasian Affairs Victoria Nuland,[222] asking for help in postponing the Dutch referendum on the European Union's Agreement with Ukraine.[223] Jaresko discovered the fake letter and corrected it.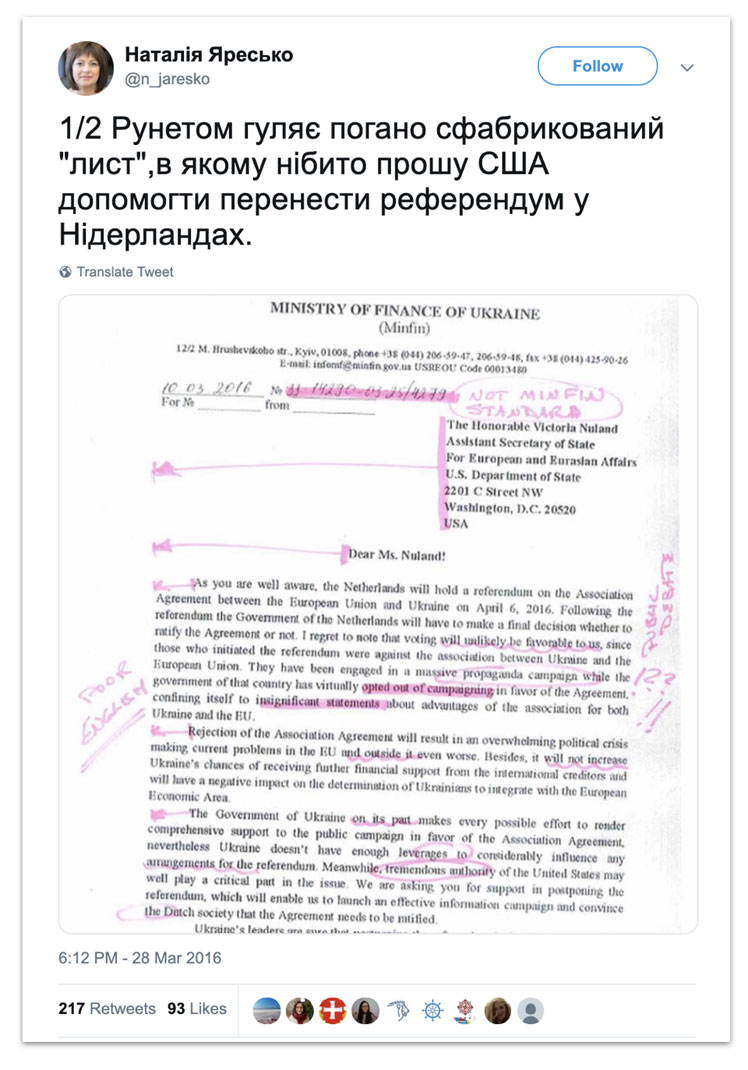 Tweet by Natalia Jaresko correcting the formatting of another Secondary Infektion forgery and calling out its poor English.[224]
By April 21, 2020, Graphika had identified some 250 images that the operation had planted in its articles, almost all of them suspected forgeries. We expect that more remain to be found.