The Effort and the Impact
Very few of Secondary Infektion's stories achieved any impact, as defined by external user engagement with its content. This is one of the most puzzling aspects of the operation: what did the operators think they were doing, and why did they not change their methods to achieve higher traction?
The operators did at least try to land their stories in front of receptive audiences. On Twitter, for example, they used @-mentions to tag journalists and politicians with the operation's stories.
Posts by Secondary Infektion account "@kprydius" to German anti-migrant politicians, flagging an article that accused Poland and the United States of ganging up on Germany.[225] Screenshot courtesy of DFRLab.[226]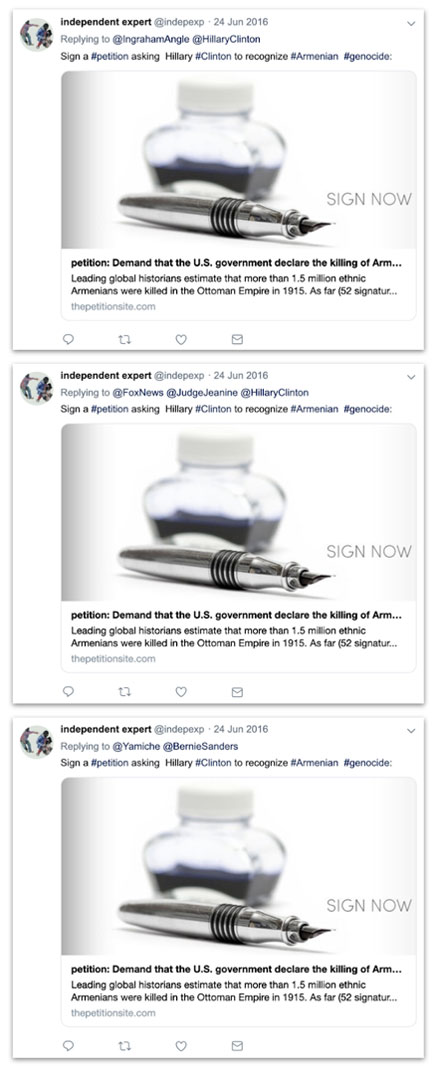 Tweets on the Armenian genocide by suspected asset @indepexp, addressed to Hillary Clinton, Laura Ingraham, Fox News, Fox pundit "Judge Jeanine," and Senator Bernie Sanders.[227]
On Reddit, the operation used burner accounts to post its articles in subreddits where they might have expected to find a receptive audience; on Facebook, it used burner accounts to post to groups and pages in the same way.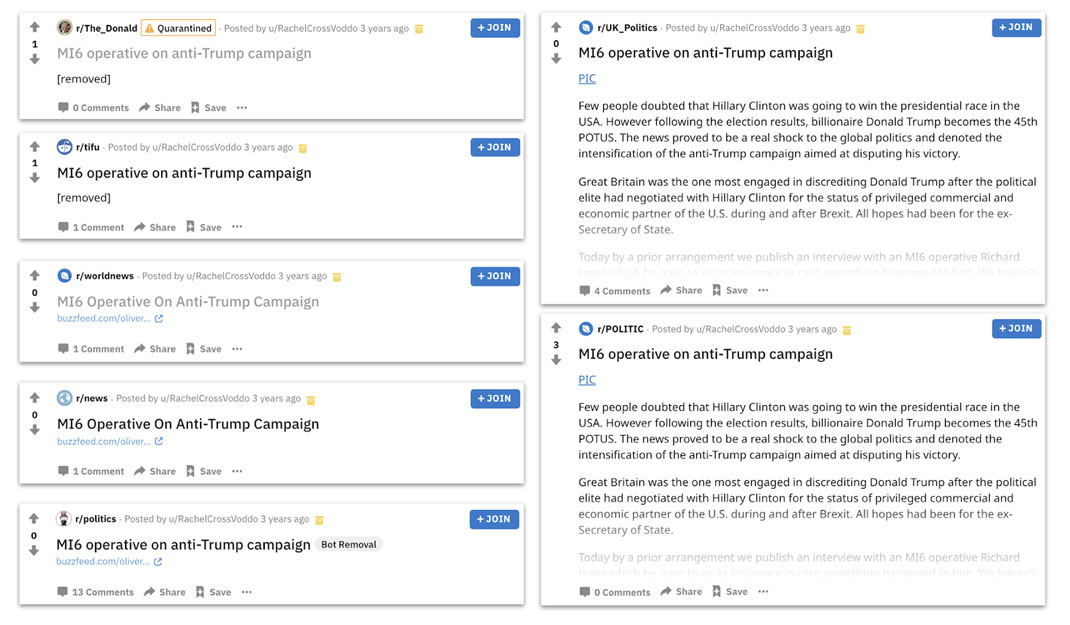 Posts by Secondary Infektion asset "u/RachelCrossVoddo"[228] of the same article[229] to seven different popular subreddits: r/the_Donald, r/tifu, r/UK_Politics, R_POLITIC, r/news, r/politics, and r/worldnews. All posts were made between 08:46 and 09:59 GMT on January 23, 2017.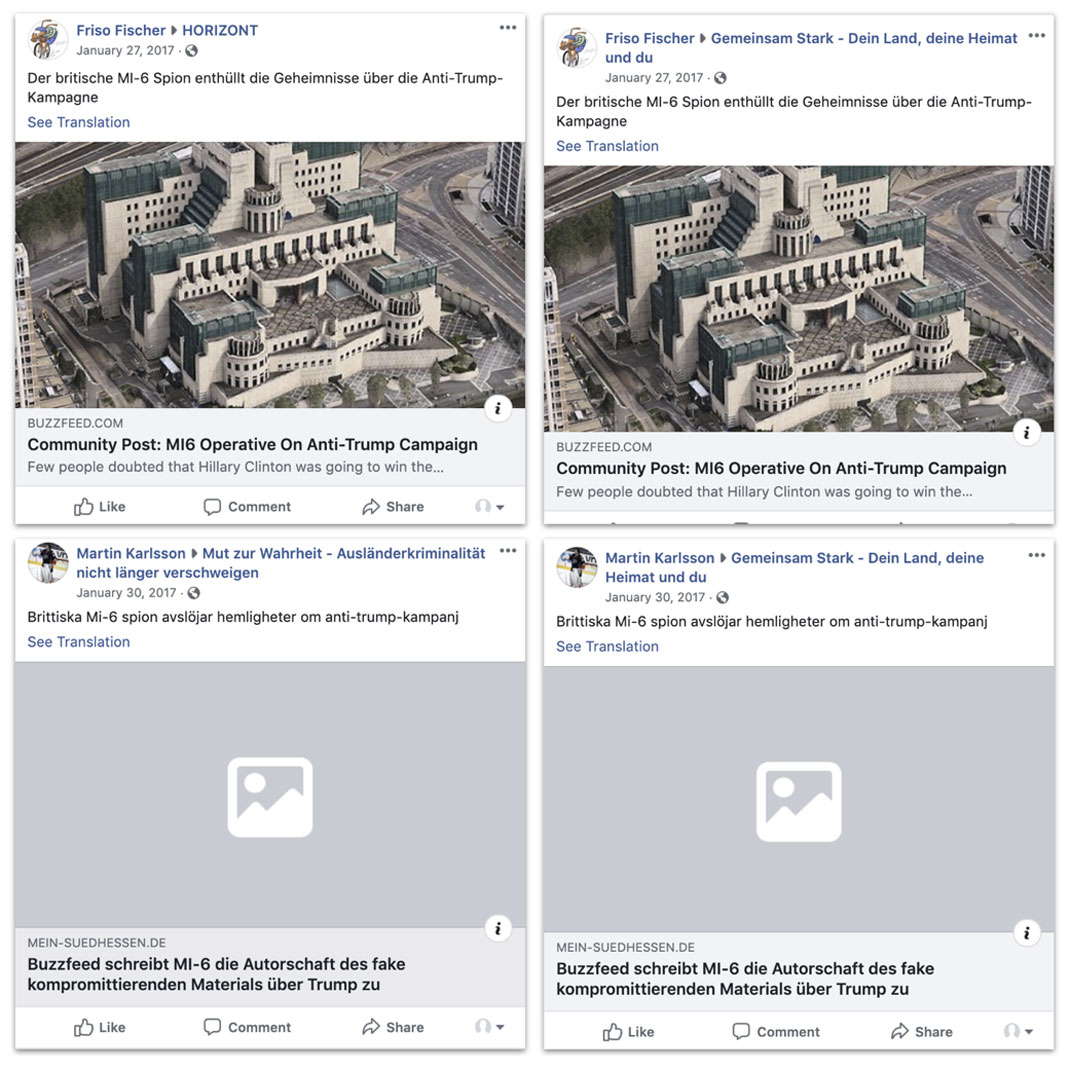 Posts by Secondary Infektion assets "Friso Fischer" (top)[230] and "Martin Karlsson" (bottom)[231] to German Facebook pages, including Horizont magazine and a number of anti-migrant pages. "Friso Fischer" shared the original BuzzFeed story on MI6 interfering in the US election, described later in this report; "Martin Karlsson" shared the German translation.[232]
None of these attempts had a substantial impact. In the overwhelming majority of cases, Secondary Infektion's stories failed to achieve any pickup in the language communities they targeted. Some of the posts met with mockery or were called out as Russian troll posts.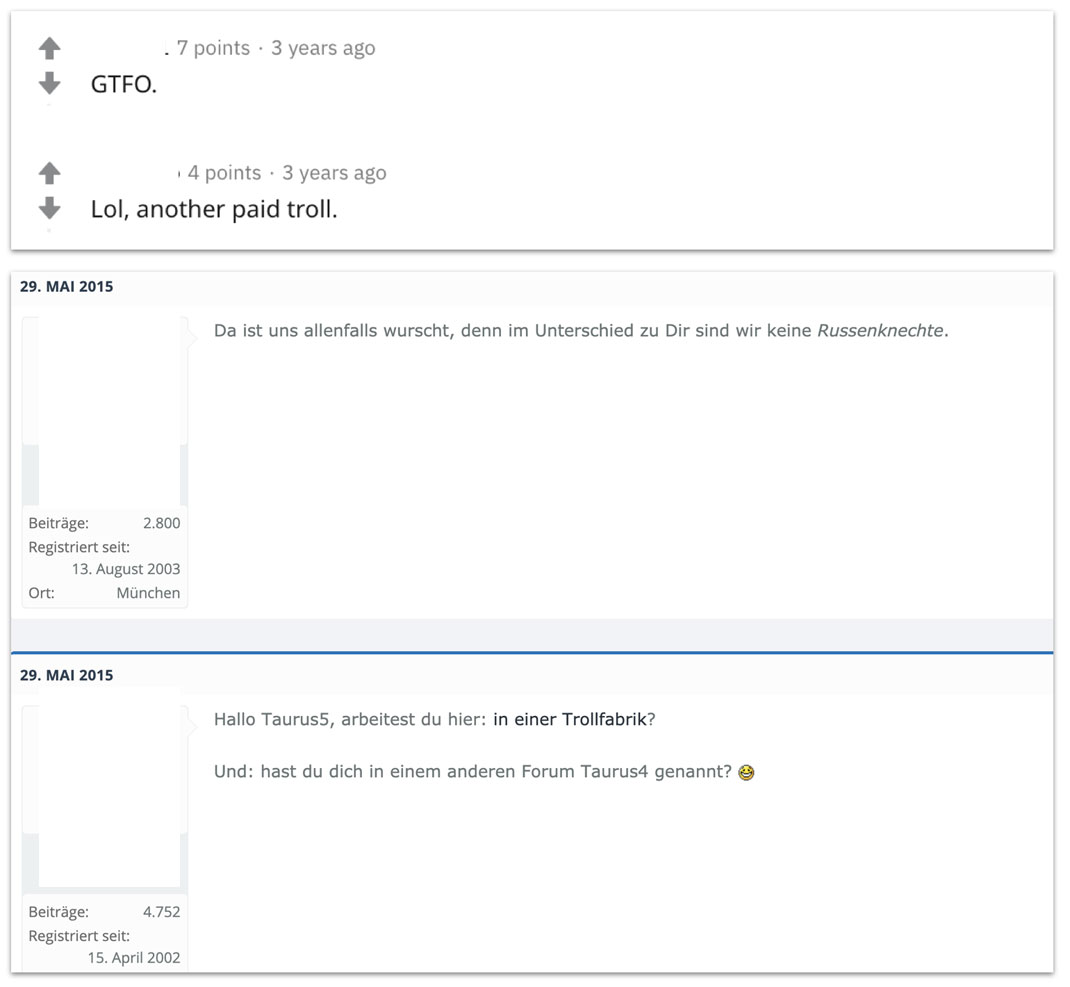 Responses to Secondary Infektion posts on Reddit[233] and ask1.org.[234] The German responses read, "We don't care, because unlike you, we're not Russian pawns," and "Hello Taurus5, do you work here: In a troll factory?"
The lack of online traction must have been apparent to the operators. On Reddit, for example, they often posted the same article to multiple subreddits, but many of the subreddits automatically rejected the posts, because they came from accounts that had been created the same day and had no karma. Despite that, the operators kept using the same approach, with the same results.

Spanish-language Reddit posts by Secondary Infektion assets from December 21, 2017[235] and March 28, 2019[236] were automatically removed because they were made by accounts that were too new.
There were two communities in which Secondary Infektion did achieve some measure of impact, albeit slight. The first was the anti-Western blogging community in Western countries, often associated with conspiracy theories such as the "Illuminati" and the "New World Order."
For example, the claim that Ukraine and the United States were lobbying to get the Nobel Peace Prize for Poroshenko was amplified by UK-based user David Icke with the tags "political manipulation" and "Illuminati criminals."[237] Icke even appears to have created a meme to accompany the post: the image was branded "davidicke.com" and does not appear elsewhere on reverse image searches.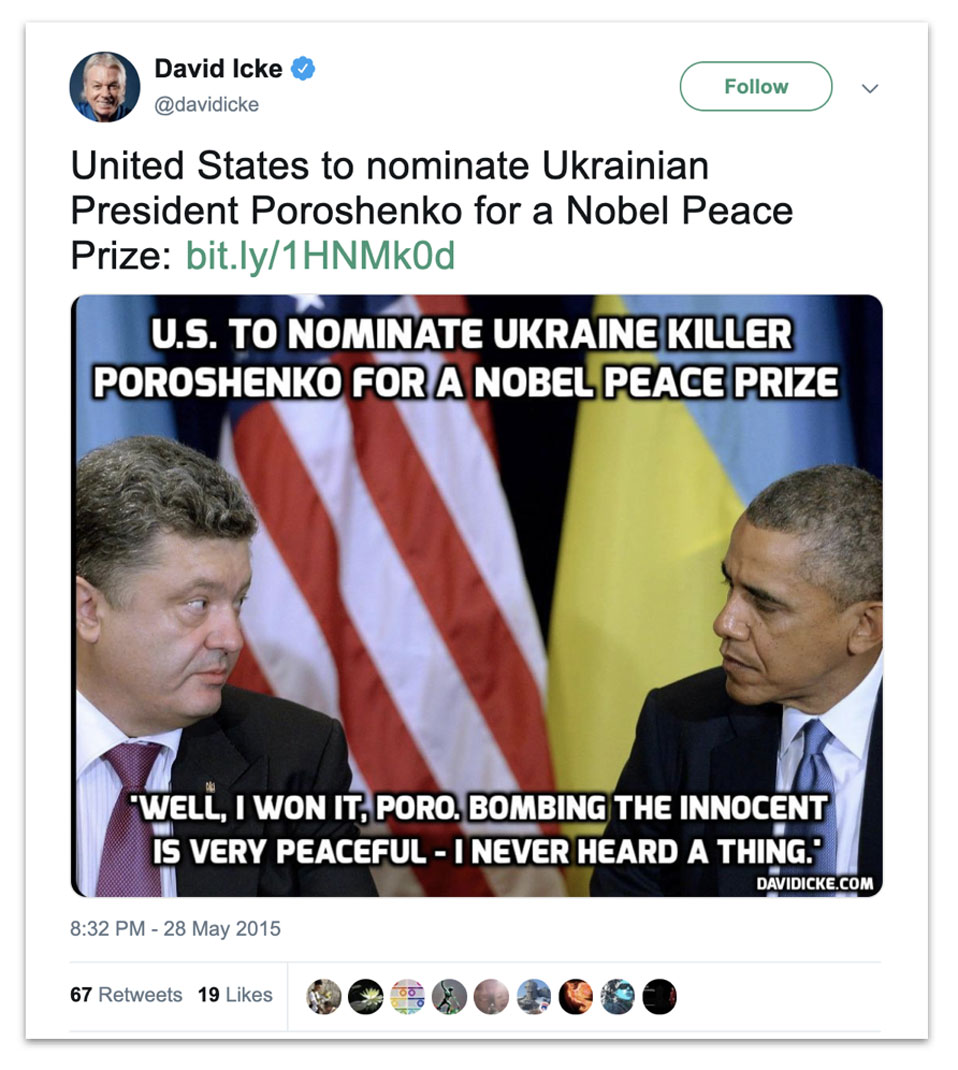 Branded meme tweeted by David Icke.[238]
The same claim was picked up by self-styled investigative historian Eric Zuesse and turned into an article on Canadian-based website globalresearch.ca, a conspiratorial website that has previously amplified Kremlin and pro-Kremlin disinformation.[239] The article did not comment on or question the authenticity of the "leaked letter," but took it at face value: "the Chairman of Ukraine's parliament is boldly demanding the US State Department to arrange for Poroshenko to get at least a nomination for the Peace Prize."
From Zuesse's post, the story was picked up by Kremlin outlet Sputnik in English,[240] Italian,[241] and Turkish.[242] The English and Turkish versions acknowledged that the Ukrainian government had called the letter a fake; the Italian version reproduced Zuesse's arguments without any caveat or acknowledgement that the "letter" was a forgery.
More generally, Russian state and state-funded media were the second group to pick up on Secondary Infektion's content. The same "Poroshenko Nobel" article was amplified by the web-based outlet nahnews.org,[243] which has been identified as a Russian-language outlet of the Russian IRA.[244] On several occasions, Secondary Infektion material was picked up by the website news-front.info,[245] a pro-Kremlin site that, according to a whistle-blower interviewed by Die Zeit is largely funded by Russian intelligence,[246] or by PolitRussia, a pro-Kremlin video channel that joined an umbrella group created by Russian IRA channels in late 2019.[247]
In June 2015, the persona "Steven Laack" posted an article that accused the United States of using NGOs to recruit Russian and other former-Soviet citizens to join the Islamic State terrorist group.[248] Typically for Secondary Infektion, it was based on a forged letter from USAID that included stilted, unidiomatic phrases such as: "U.S. Agency for International Development urges you to revise plans of administering financial assistance to non-governmental organizations in the post-Soviet states." Three days later, the "Federal News Agency" or RIAFAN, a Russian-language website that has also been identified as belonging to the Russian IRA,[249] published an article on the claim, attributing it to "American blogger Steven Laack."[250]
It is unclear whether these sites amplified the Secondary Infektion stories because they were aware of the operation or because they found its sentiments useful for their own purposes. As noted above, Secondary Infektion tweeted to Russian IRA account "Jenna Abrams" at least once, but there is no indication that the interest was reciprocated: none of the Secondary Infektion accounts that Graphika has identified features in the troves of social media posts attributed to the Internet Research Agency over the years.
The Big Bang
Of all Secondary Infektion's output, only one appears to have made a substantial impact: the operation's leak of apparently genuine US-UK trade documents in October 2019, shortly before the British general election.[251] On this occasion, the documents were unveiled in public by the leader of the UK opposition, Jeremy Corbyn, to widespread coverage.[252] Graphika's research showed that the leaked documents were first posted on Reddit with accompanying text in unidiomatic English ("Great Britain is standing on her knees…"), and then amplified in German on Reddit, homment.com, and meinbezirk.at using single-use burner accounts.[253] One Twitter account also posted the leaks multiple times, tagging the accounts of British politicians and journalists. In December 2019, Reddit attributed the trade leaks to Secondary Infektion, and unveiled a trove of 61 other accounts that they also attributed to it.[254]
However, it appears unlikely that the operation's social media amplification led directly to Corbyn's unveiling. There are still gaps in our knowledge of how exactly it was conducted, but it appears that the leak only picked up traction after it was emailed to UK activists and to the UK Labour Party.[255]
Overall, of all the information operations Graphika has studied, Secondary Infektion achieved the lowest impact for the effort it made (taking online virality, sharing, and significance of these stories in the public debate as proxies for impact). Of all the hundreds of fake stories and forged documents, none yielded significant traction online.
Mapping Audiences: Secondary Infektion's Followers on Twitter
Secondary Infektion was so heavily dependent on blog posts that had minimal viewing figures, and so reliant on single-use burner accounts, that few data are available to map its audience.
However, in 2014-2016 the operation ran a small handful of Twitter accounts that posted repeatedly in English, German, and Russian. These fell functionally silent in 2016 (other than automated updates on their follower numbers), but they were still visible in early 2020, allowing Graphika to map the audiences that paid attention to their content.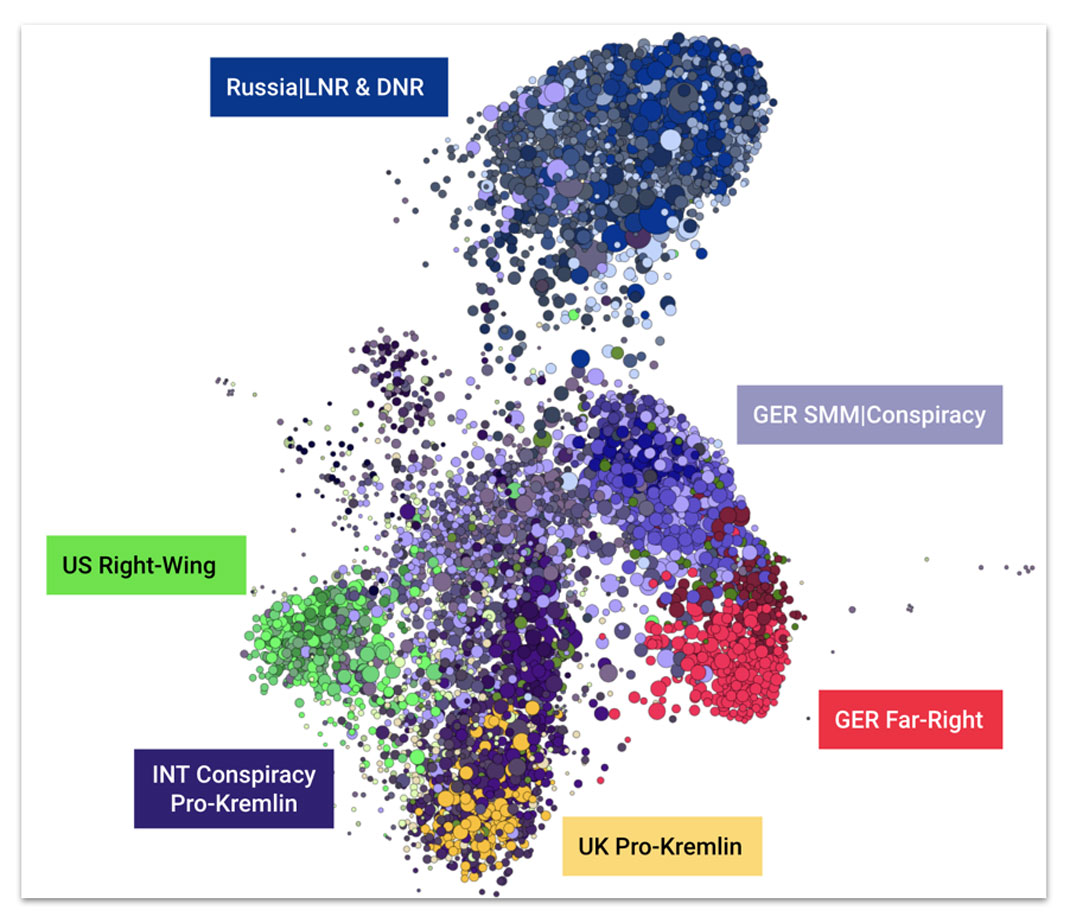 Graphika network map of the Secondary Infektion Twitter assets' followers and the followers of significant amplifiers, mapped April 2020.
The map above displays the accounts that followed any of the Secondary Infektion accounts, revealing the communities they are forming with one another. The map is dominated by pro-Russian accounts, split into the Russian | LNR & DNR (33.53% of the map) and the International Pro-Kremlin | Conspiracy (17.79%) groups. The Russian group essentially gathers Kremlin politicians and supporters and reporters for state-funded outlets, as well as writers and influencers whose online activity is mainly structured around amplifying Kremlin narratives on social media. The international Pro-Russia | Conspiracy group gathers international pro-Russian support, as well as Syria-focused accounts and far-left conspiratorial influencers. The German community is mostly composed of social media marketing accounts, as well as of two clusters of German far-right-affiliated accounts, and the British one consists of pro-Kremlin far-right accounts.
The map's division into distinct clusters reflects the language breakdown between the Secondary Infektion accounts. Thus the operation's German-language assets were primarily followed by German-language accounts that focused on far-right or conspiracy content; the English-language assets were mainly followed by English-language accounts with a distinct far-right or conspiratorial leaning. These two groups were somewhat interconnected. The Russian-language accounts had a separate and largely distinct audience of Russian-language accounts focused on the separatist territories of Ukraine. This content focus is in line with the accounts' behavior. Their content largely focused on attacking the United States, Muslim migrants, and critics of the Kremlin and would therefore naturally appeal to far-right and pro-Kremlin groups; it was routinely conspiratorial in tone and often based on forged documents, hence its appeal to conspiracy communities.
It is worth noting that the map reveals a relatively small total community, especially considering that it spreads across three languages. The map consists of only 6,027 accounts (nodes);- Graphika maps are usually composed of up to 14,000 accounts. While some accounts that once followed Secondary Infektion may have been taken down in the interim, this highlights the little reach Secondary Infektion assets had on Twitter, especially since around 26% of the network is constituted of social media marketing pages that did not have a specific political bias.