The Operation's Main Themes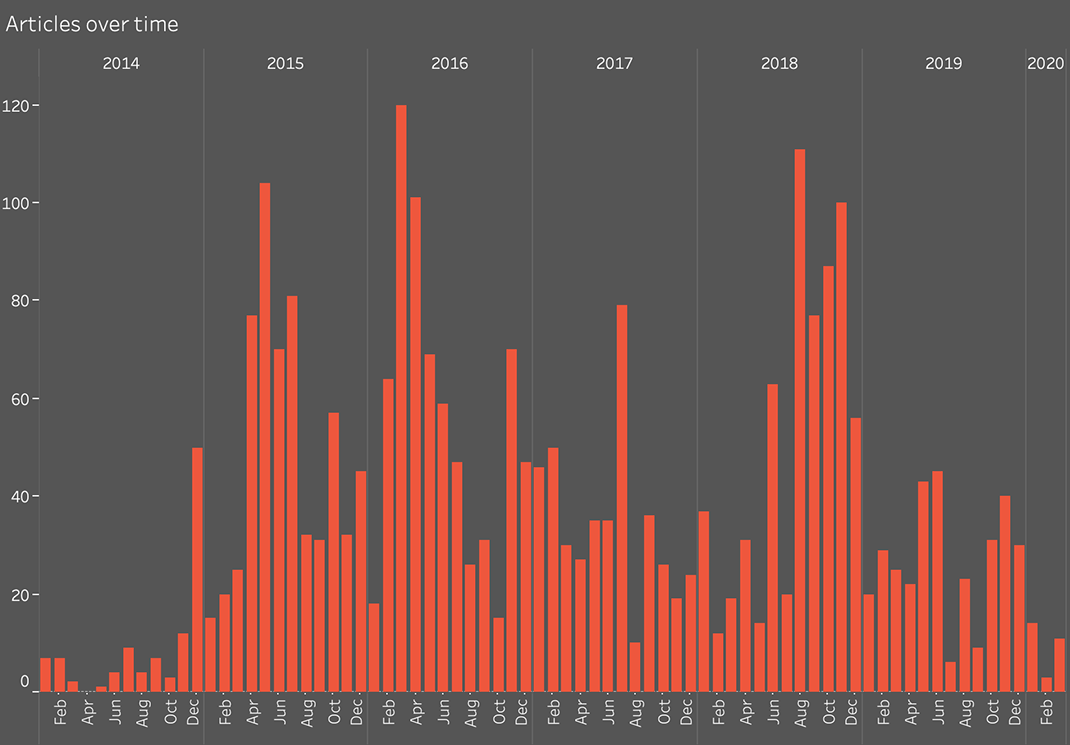 Secondary Infektion: number of articles posted over time.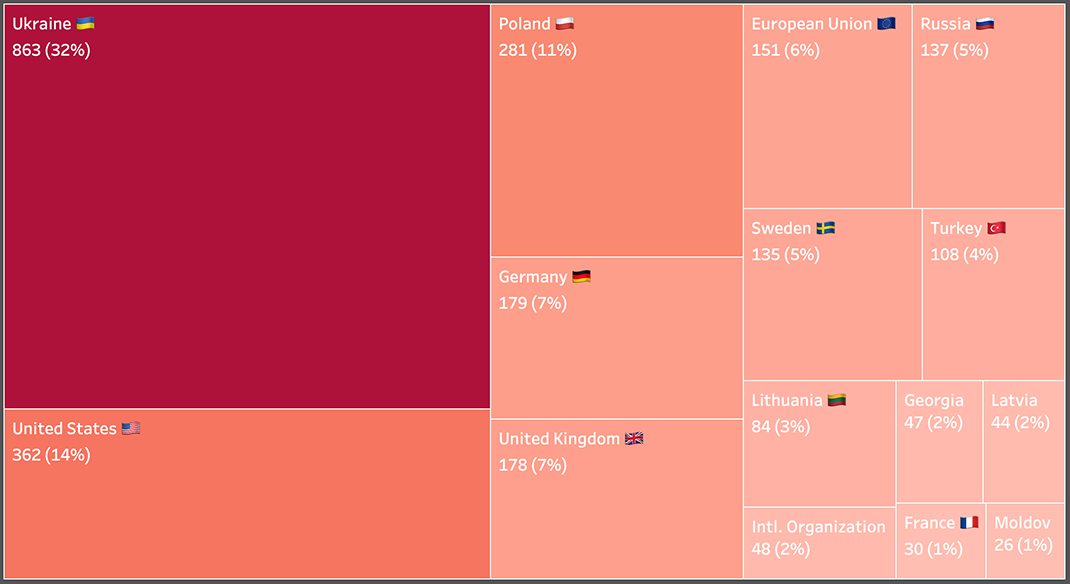 Countries mentioned or targeted by Secondary Infektion, total number of stories.
Secondary Infektion began in early 2014 and was still posting in early 2020. Over the six years of its existence, it posted a vast quantity of content on a wide range of topics and across a dizzying number of platforms and forums: over 300, according to the latest findings in April 2020.
The stories it created were nothing if not eye-catching. They claimed, for example, that extremist Remainers were plotting to assassinate Boris Johnson,[36] that Ukraine was lobbying for President Petro Poroshenko to win the Nobel Peace Prize,[37] and that the EU was lobbying for German Chancellor Angela Merkel to do the same;[38] that Merkel was an alcoholic,[39] and that Poland's ruling Kaczynski twins suffered from a genetic disorder that made them mentally unstable.[40] Many more examples can be found in the database.
The campaign was not static: the subjects it dealt with shifted over time, although Ukraine was a perennial target. They largely reflected Russia's foreign policy priorities. Between 2016 and 2018, when Russia was engaged in a diplomatic dispute with Turkey, Secondary Infektion picked more Turkish targets; in 2016, when Russian information operations targeted the US presidential election by trying to undermine Hillary Clinton's presidential campaign, Secondary Infektion attacked Clinton too. As a notable exception, the operation featured a surprisingly small amount of Syria-focused content.
Its main goal appears to have been to inflame tensions between or within countries the Kremlin perceived as hostile, and it ranged widely in search of fuel. It posted articles on the Armenian genocide,[41] terrorism in Northern Ireland,[42] World War Two-era mass killings and reparations around Poland and Ukraine,[43] accusations of sexual violence committed by Muslim refugees,[44] Scottish independence,[45] and US espionage and interference against its allies.[46]
Despite this wide geographic range, the themes it selected closely matched those of other known Kremlin information operations of the period. For example, it started to attack Turkey after Turkey shot down a Russian jet in November 2015 and it took an interest in sports after the World Anti-Doping Agency (WADA) exposed a Russian state-sponsored doping operation in 2016. In 2016, it attacked Hillary Clinton's election campaign and focused on attacking Emmanuel Macron ahead of the French elections in 2017. It did not copy or amplify those other operations: it approached the same targets, but in its own way.
The database that accompanies this report is divided into nine categories according to the most prominent theme of each article:
Ukraine as a failed or unreliable state
US and NATO aggression or interference in other countries
European divisions and weakness
Elections, especially in the United States, United Kingdom, and France
Migration and Islam
Russia's doping scandals in various sports competitions
Turkey as an aggressive, destabilizing power
Defending Russia and its government
Insulting Kremlin critics, including Aleksei Navalny and Angela Merkel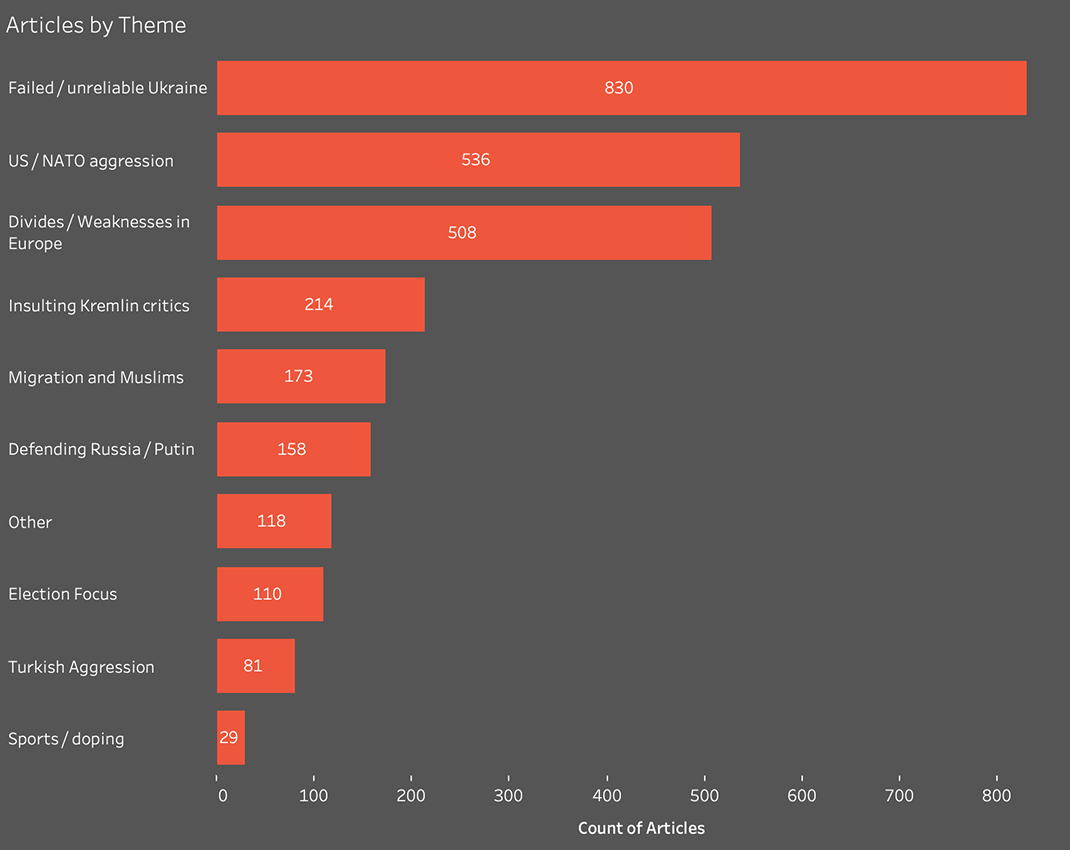 Breakdown of Secondary Infektion articles by theme and number.
Despite the frequency with which Secondary Infektion assets in one language copied content from assets in other languages, the division of topics was not uniform. Ukraine was the most popular theme across the network, being consistently portrayed as corrupt and unreliable and run by Nazis, but posts in German also focused heavily on US interference and aggression, while posts in French and Spanish focused more on divisions within Europe. English-language content divided roughly evenly between attacks on Ukraine, reports on divisions in Europe, and accusations of US aggression or interference.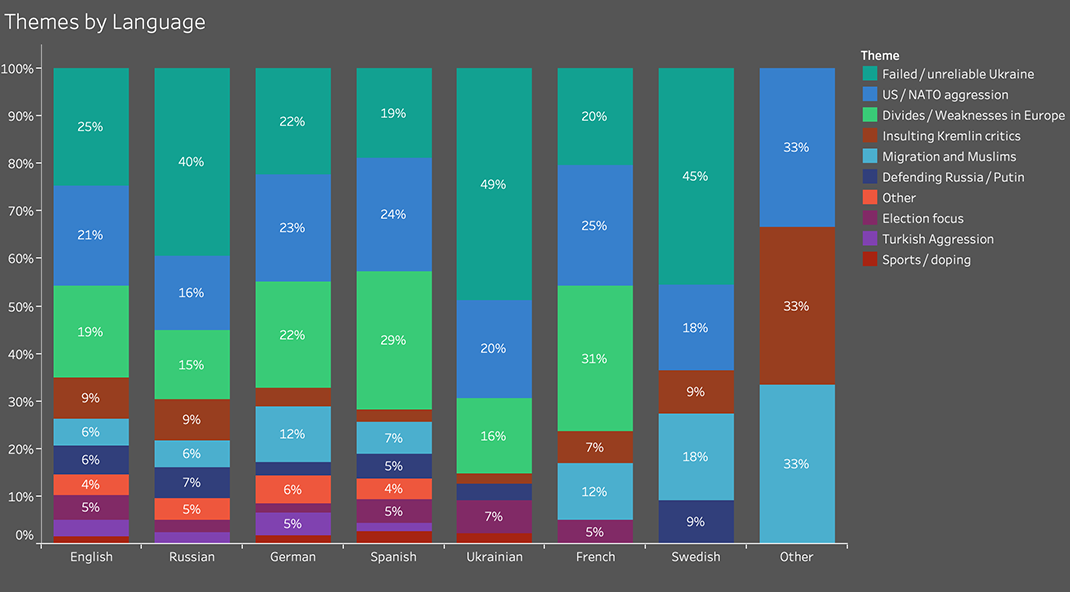 Breakdown of Secondary Infektion's main themes by the languages in which they were posted.
The targets shifted with time. Ukraine bore the brunt of the early coverage, especially in the critical months after Russia annexed Crimea and launched its proxy war in the Donbass in 2014. Posts about weaknesses and divisions in Europe surged in the second half of 2016, and still more in early 2018. Stories about US interference and aggression were present from the outset but peaked in late 2018.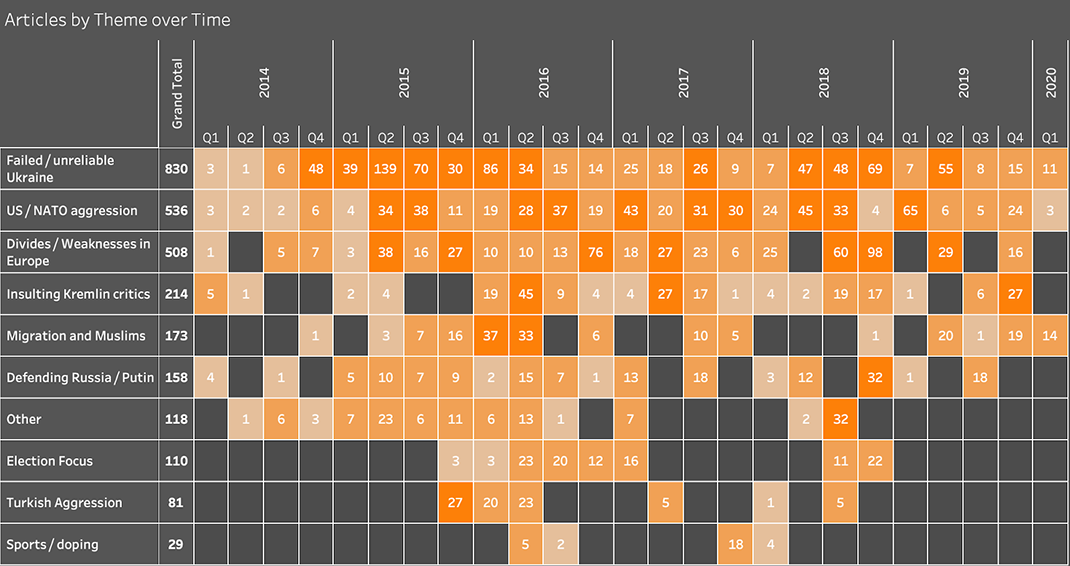 Secondary Infektion: main themes over time
This paints Secondary Infektion as a dynamic operation, shifting its targets in line with evolving Russian narratives, most notably concerning Turkey. It did not exist in a vacuum, even though many of its stories may as well have been posted into one: it tracked real-world events and tried to react accordingly.
Ukraine as a Failed or Unreliable State
Ukraine was Secondary Infektion's most consistent target. The operation began while the "Maidan" revolution was still in its infancy, and throughout its life, it posted stories that presented Ukraine as a failed state, an unreliable partner, or a thinly veiled Nazi dictatorship.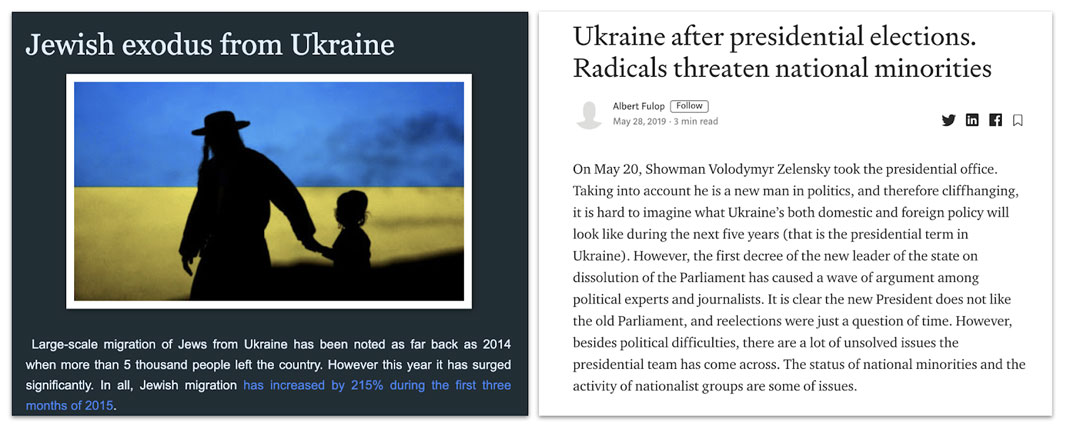 Posts on Ukraine made five days apart in June 2018.[49]
US/NATO Interference in Other Countries
Secondary Infektion repeatedly accused the United States of aggression against, or interference in, other countries around the world. The accusations ranged from espionage to sponsoring "color revolutions" in former-Soviet countries. Sometimes, NATO or the United Kingdom was portrayed as an accomplice or a main perpetrator.

Posts on US and UK interference from Reddit (left)[50] and indybay.org (right).[51]

Divided Europe
Secondary Infektion often targeted divisions in Europe. Some were political, such as Scottish and Catalan independence. Some were ethnic, such as the Armenian genocide and the bloodshed between Poles and Ukrainians during World War Two. Some were historical, such as Poland's demands for war reparations from its neighbors. Other posts accused the EU of betraying its own principles or its international partners.


---
Elections in Focus
Relatively little of Secondary Infektion's content dealt with elections: the operation seemed more concerned with other divisions, especially diplomatic ones, and with attacking official and diplomatic figures, such as heads of state and ambassadors.
The main exceptions were the US presidential election in 2016, when it attacked Hillary Clinton, and the French election in 2017, when it attacked Emmanuel Macron; it occasionally mentioned other elections, largely as a way of undermining the legitimacy of the country in question.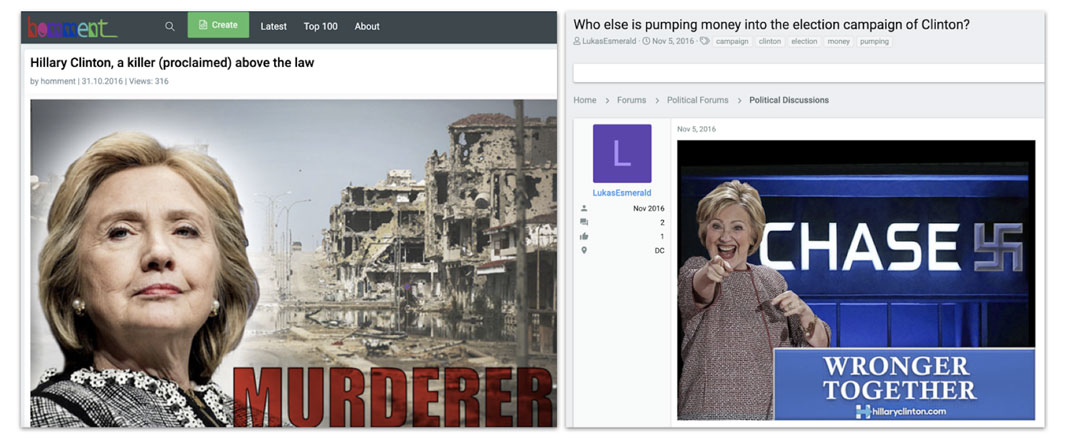 Headlines on elections in Latvia (left)[58] and Sweden (right).[59]
Migrants and Muslims
Secondary Infektion posted negative content about immigration in general, and focused on specific targets, such as Muslim refugees, in particular. These posts typically linked such communities with terrorism and sexual violence. The intent appears to have been to stir up racial and religious conflict in the target countries.
This content appeared crafted to inflame, although it typically failed to achieve any traction. One article posted in February 2016, for example, claimed that extremist Muslim clerics had urged Mulsims to "take the women of infidels!" on St. Valentine's Day.[60] It was based on a screenshot of an alleged online post for which no original can be found; we assert with high confidence that this was a forgery created by the operation. Another article alleged that Norwegian far-right mass killer Anders Breivik had summoned Europeans to an anti-Muslim crusade; again, it was based on a screenshot of a "document" that only ever existed in Secondary Infektion posts.[61]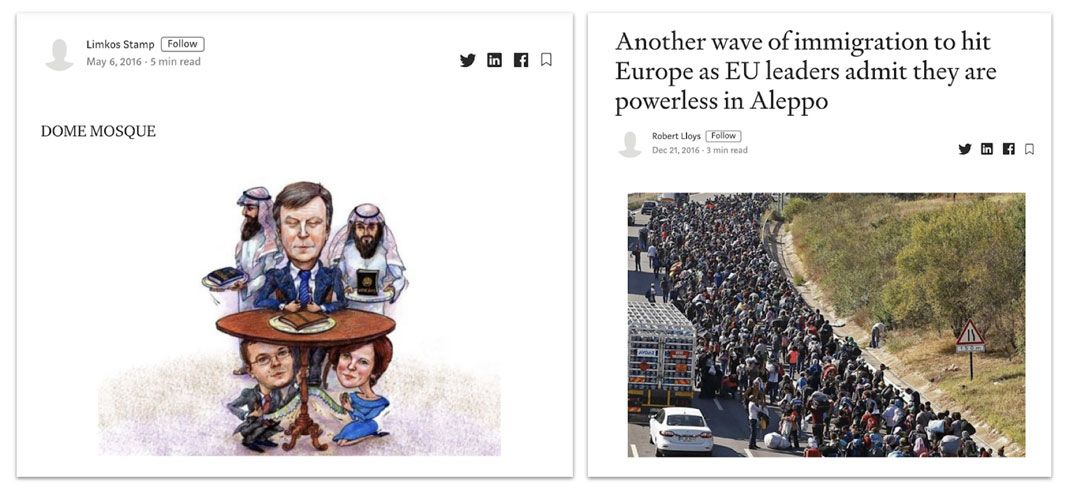 Posts on migrants and Islam in May and December 2016.[63]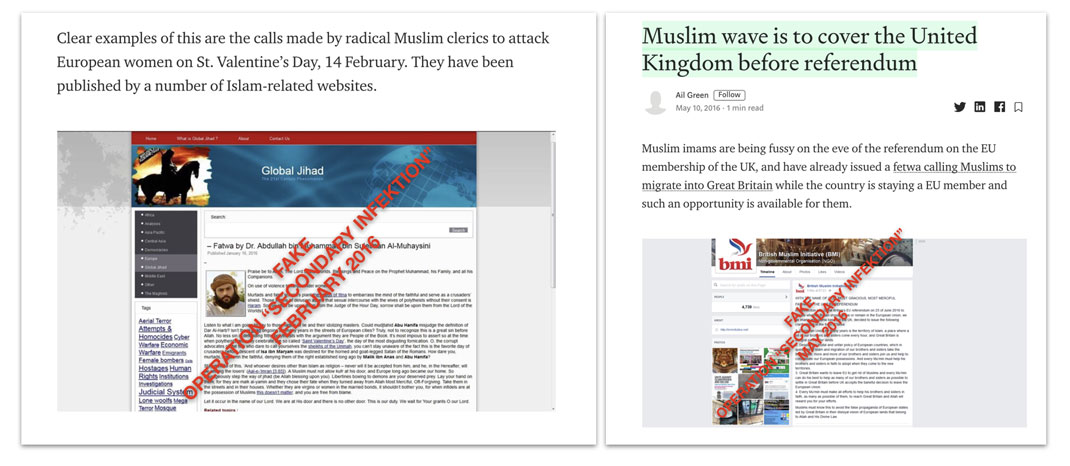 Fake documents alleging Muslim intolerance and aggression, February and May 2016.[64]
Curiously, a Twitter account that appears to have formed part of the operation - in that it almost exclusively tweeted Secondary Infektion content - tagged the article on the "Valentine's Day threat" to a number of influential Twitter users.[65] These included @Jenn_Abrams, one of the Russian IRA's most popular creations. This is insufficient to suggest a connection between Secondary Infektion and the Russian IRA, but it is noteworthy.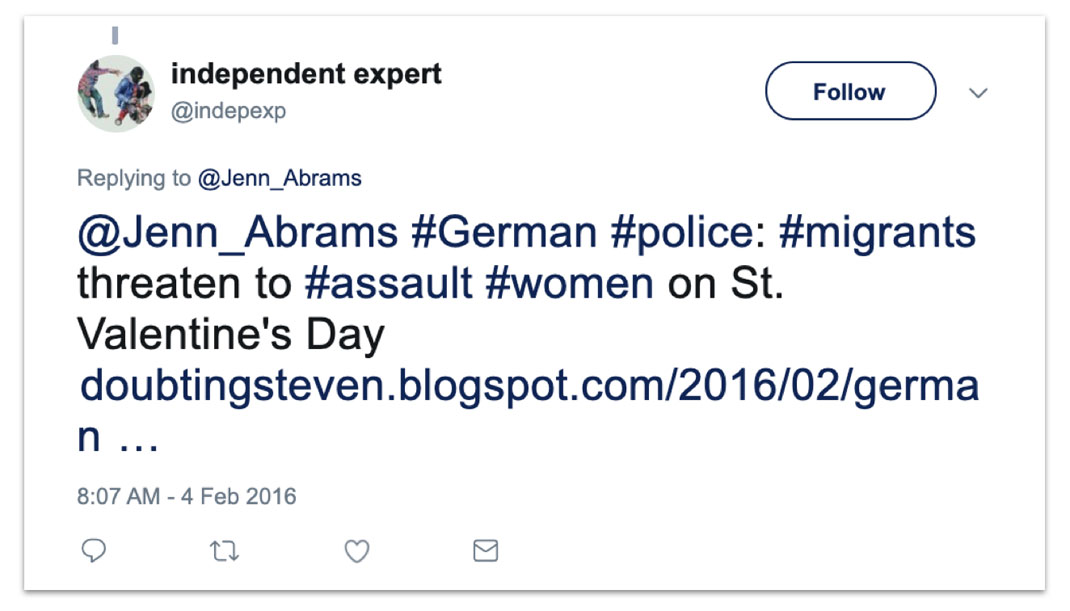 Tweet by suspected operation account @indepexp to @Jenn_Abrams.
Turkish Aggression
After Turkey shot down a Russian jet on November 24, 2015,[66] Russian state outlets launched a campaign to label Turkey as a rogue state, in league with Islamic State terrorists and selling them oil.[67] In late 2015 and through 2016, Secondary Infektion ran a series of blogs attacking Turkey as colluding with terrorists, destabilizing the region, and/or abusing the Kurds.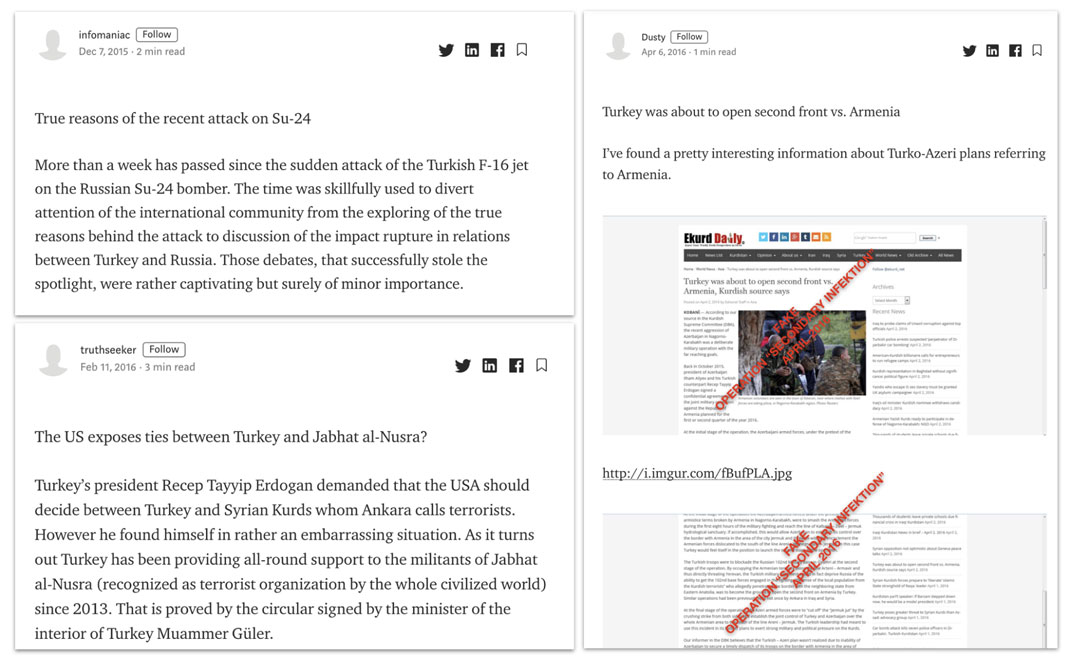 Medium posts attacking Turkey, December 2015 - April 2016. All three articles were posted by single-use burner accounts; all three were based on apparent forgeries.[68]
Russia's Doping Scandals
A few articles addressed sporting issues, especially those that had emerged as an international embarrassment to Russia. The 2018 Winter Olympics, discussed below, bore the brunt of the coverage, but Secondary Infektion also targeted the World Anti-Doping Agency after it found Russia guilty of massive doping violations in late 2015 and early 2016.[69] These posts featured forged documents from WADA and the Committee for the Protection of Journalists.

Posts alleging WADA corruption in English,[70] German,[71] and Russian,[72] all based on the same "leaked" documents, April 2016.
In July 2016, after WADA had announced its findings, Secondary Infektion posted a blistering attack on the Rio Olympics[73]: "These sporting events surely would be the most dishonest and politically biased campaign over the whole sporting history." The article accused WADA of taking its decisions "in order to make the distribution of medals more politically orientated." As we will see in the discussion of the Winter Olympics below, Secondary Infektion did not take losing well.
Defending Russia
More broadly, one of Secondary Infektion's lines of effort was to defend the Kremlin against its critics, both external and internal, by mocking them (discussed in the following section), comparing them unfavorably with Russia, or trying to discredit them.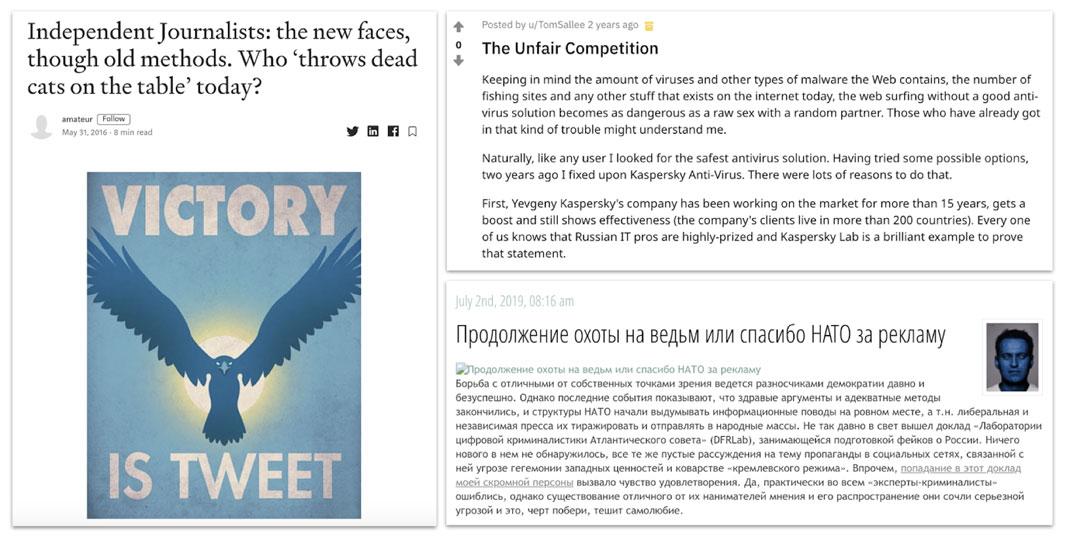 Russia-focused articles posted by Secondary Infektion, challenging the investigative group Bellingcat over its investigation of the MH17 crash (left),[74] defending the Kaspersky software company (top right),[75] and satirizing the exposure of the "Blue Man" account by Facebook and the DFRLab (bottom right).[76]
The operation paid particular attention to those who had exposed it. In July 2019, the "Blue Man" persona - Secondary Infektion's most prolific and long-lasting asset, described below - published an attack on the Atlantic Council's DFRLab for exposing the operation in general, and the "Blue Man" in particular.[77] The blog attempted an ironic tone: "Yes, the 'forensic experts' were wrong about almost everything, but they thought the existence and spread of a different opinion from their employers' was a serious threat, and Devil take it, that tickles my pride." Despite the tone of defiance, this was the persona's last post.
The attempt at gaslighting those who exposed it is uncommon, but not unheard-of in Russian information operations. "Jenna Abrams," one of the Russian IRA's most notorious personas, posted a similar through-the-looking-glass blog in November 2017.[78] In November 2018, the Russian IRA launched a website that claimed - against all the evidence - that it had managed to interfere in the 2018 midterm elections in the United States.[79] None of these efforts appears to have resonated with a receptive audience.
Insulting Kremlin Critics
When it came to individuals who criticized or defied the Russian government, Secondary Infektion went beyond its usual focus on international tensions to personal targeting. This applied to critics both inside and outside Russia, underlining once more how Russia's information operations had domestic roots as well as foreign-policy ones.
Aleksei Navalny
Secondary Infektion consistently portrayed Navalny as criminal and corrupt, not caring about his supporters, and being under the control of and in the pay of the West. At the same time, one attack on him involved a fake letter from one EU official to another saying he should not be awarded a prize as he is an "odious nationalist."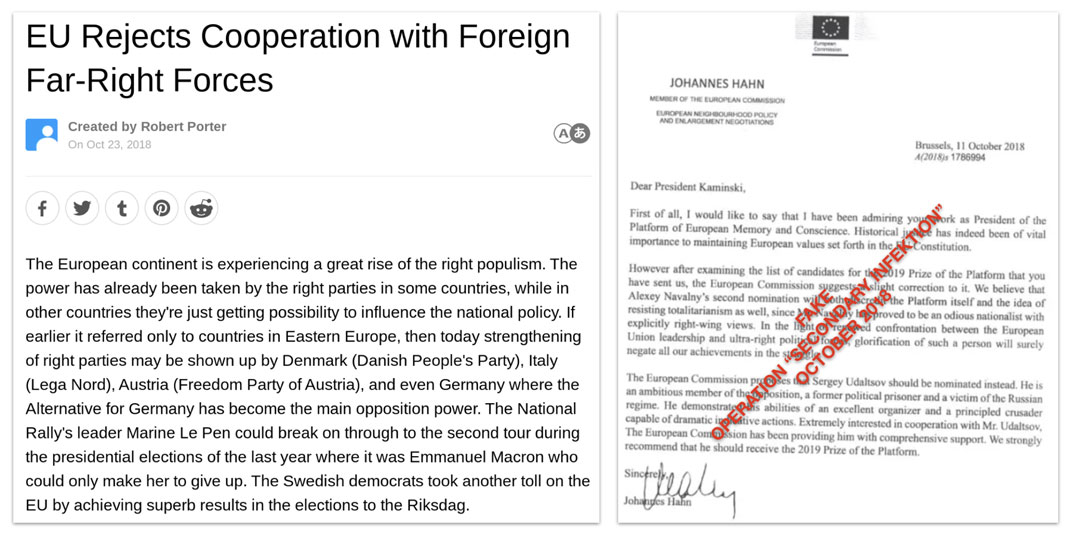 Left, article published by Secondary Infektion claiming that EU Commissioner Johannes Hahn had called Navalny an "odious nationalist"; right, the embedded letter attributed to Hahn.[80]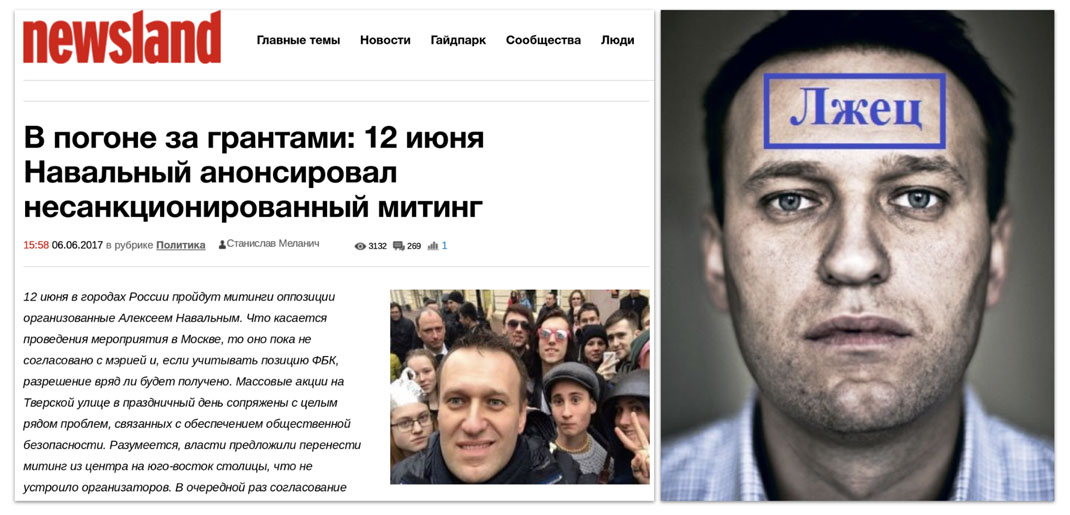 Navalny portrayed as being controlled by the West (left)[81] and the Kremlin (right).[82]
Dmitry Medvedev
One of the strangest parts of Secondary Infektion - an operation that was often bizarre - was when it began to attack Russian Prime Minister Dmitry Medvedev. This was a brief burst of activity in the summer of 2018, the reasons for which are not fully clear. The pattern of tradecraft was identical with known Secondary Infektion stories of the period and was spread across five languages. The incident is described more fully in our "vignettes" section.

Memes attacking Medvedev that appear to have been created by Secondary Infektion, in that they have not been found online anywhere before the operation used them.[83]
Angela Merkel
Angela Merkel was another frequent Secondary Infektion target. She was not attacked as systematically as Navalny, but the operation periodically posted about her with texts and cartoon images, portraying her initially as undemocratic and then as the one who was to blame for the migration crisis. One article even suggested that she was an alcoholic (an accusation the operation also made against Medvedev). The attacks peaked in the first half of 2017, shortly before Germany's federal elections.

Cartoon[84] and article[85] about Angela Merkel. The right-hand post was based on an article[86] by an alleged "doctor" on the BuzzFeed forum that bears all the indicators of a Secondary Infektion fake.
Jarosław Kaczyński
Secondary Infektion also took a medical approach to attacking Jaroslaw Kaczynski, the head of Poland's ruling Law and Justice party (PiS) and an outspoken Kremlin critic. Starting in early 2015, the operation began circulating the conspiracy theory that he suffers from a genetic disorder that manifests in "high excitability, uncontrolled manifestation of panic and aggression." The operation built its story up over some months, spreading articles and forgeries in multiple languages and inventing a "leak" on cyberguerrilla.org,[87] a video on Vimeo,[88] and even a petition on avaaz.org.[89]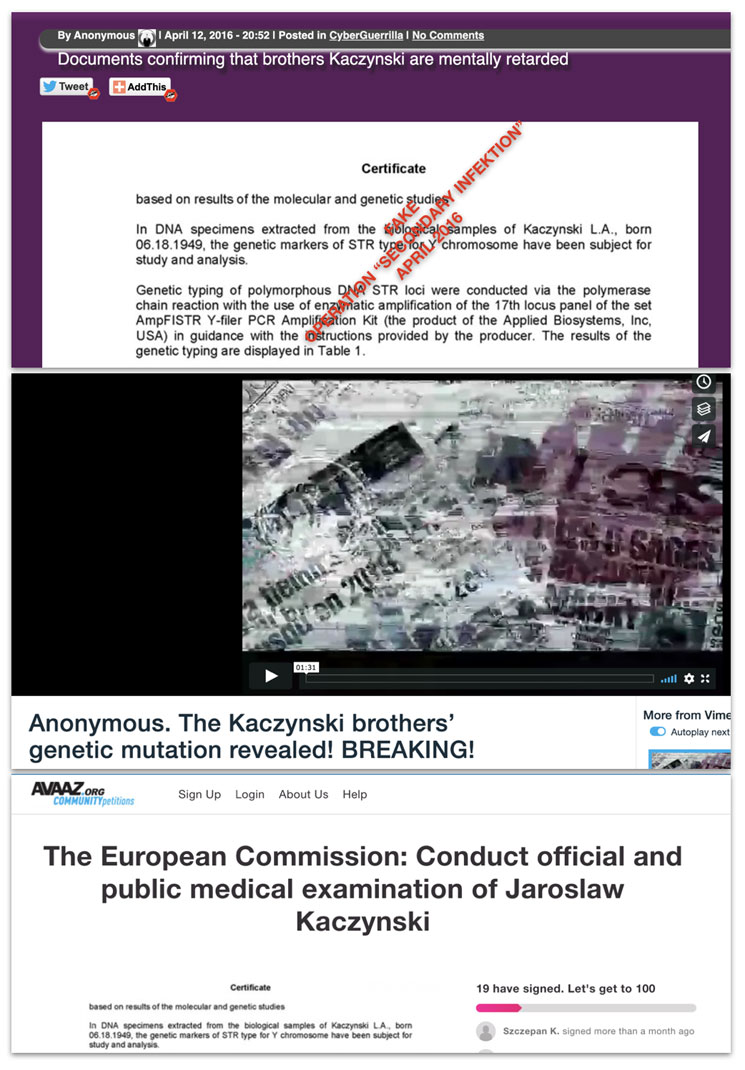 The spread of the story across cyberguerrilla.org (top), Vimeo (middle), and avaaz.org (bottom).
Mikheil Saakashvili
Saakashvili has long been a target for Kremlin information operations. Secondary Infektion depicted him as having been a corrupt failure in his native Georgia who was touring other new democracies looking for lucrative opportunities or trying to cause trouble in Georgia. He was also painted as fighting a losing battle against Ukraine's oligarchs to bring about democratic reform.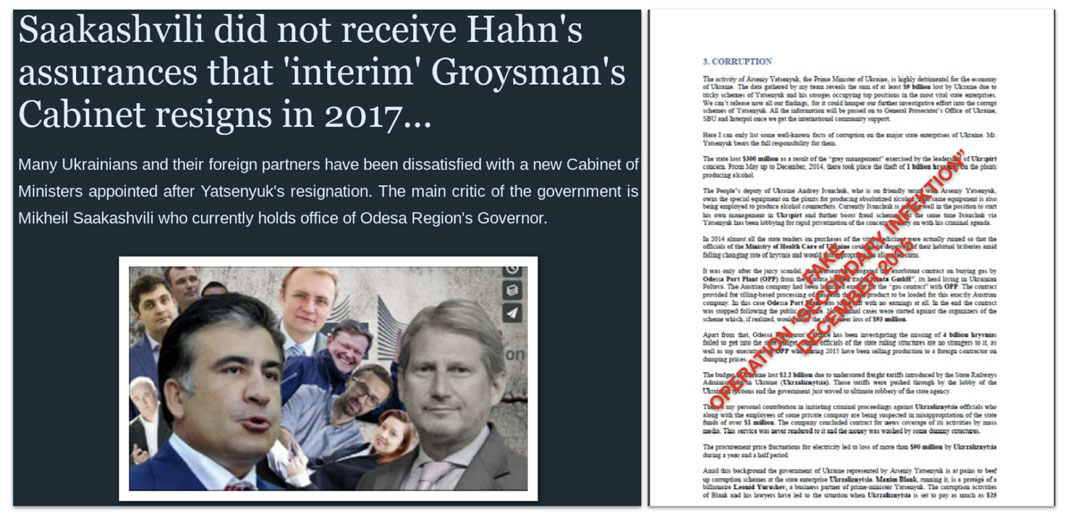 Left, story involving an alleged letter from Saakhasvhili to EU Commissioner Johannes Hahn claiming that oligarchs had influenced the formation of Prime Minister Hroysman's cabinet.[90] Right, supposedly a report by Saakashvili to the OCSE saying Ukrainian Prime Minister Yatsenyuk was a source of corruption.[91]
Dalia Grybauskaitė
Secondary Infektion's attacks on female politicians were notably sexist. In this regard, they regrettably echo a well-established pattern of information operations on social media leveraging sexist tropes to attack female politicians around the world.
The operation frequently attacked then-Lithuanian President Dalia Grybauskaite, accusing her in turn of being supported by the CIA,[92] a KGB informer, a former prostitute, an agent in hock to the Chinese government, and working against the European Union - especially after Lithuania was found complicit in the CIA's secret detention, rendition and torture program by the European Court of Human Rights.[93]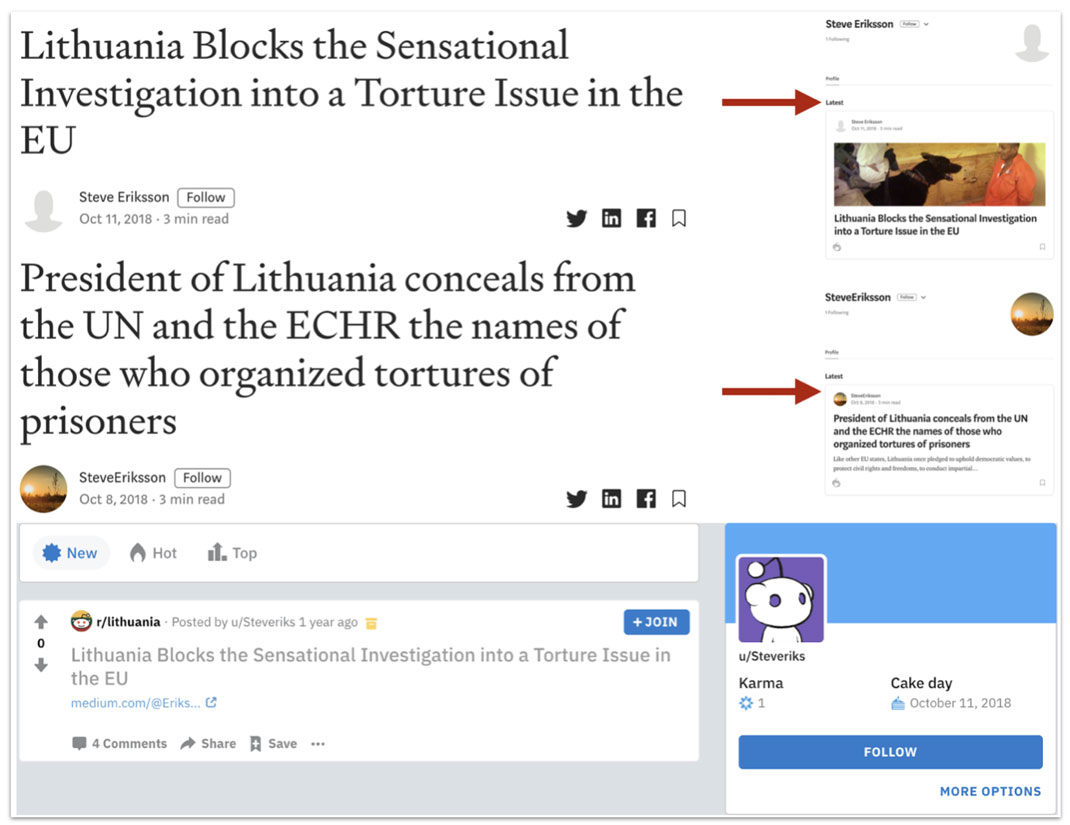 Screenshots of articles published by a series of burner accounts named "Steve Eriksson" on Medium (top[94] and middle[95]) and Reddit (bottom[96]).
The network also spread the narrative that Grybauskaitė was a KGB informer and prostitute, using an already debunked[97] KGB "letter" claiming that the former Lithuanian President had been detained alongside two other USSR citizens and three Finnish girls for "immoral behavior in public places" in 1982. The letter came back into the spotlight in 2019, after Sputnik released a video featuring it,[98] and was later shared by networks of pro-Russian outlets. According to Secondary Infektion's German-language blog "Politgraben," the arrest was a sign that Dalia Grybauskaitė was working as a KGB informer during her studies in Moscow, especially since she was not expelled from university after the arrest. Russian-language personas amplified the KGB claim but not the prostitution narrative.[99]

Extract[100] from the Politgraben article "ADIEU, KGB! FLIEHT DALIA GRYBAUSKAITĖ VOR IHRER KGB-VERGANGENHEIT? ("Adieu, KGB! Is Dalia Grybauskaite fleeing from her KGB past?"). The underlined text , highlighted by Graphika, reads: "Note the description below: 'The procedure was terminated on the order of the KGB curator.' It is known that the Party often used prostitutes as informers, which explains the fact that the student was not expelled from the aforementioned university despite the scandal."
Sidebar: False Leaks
Most of Secondary Infektion's content dealt with "leaks" that never were - what we refer to as False Leaks[101]: documents, either stolen or fabricated, presented as leaked materials. Throughout its lifespan, the operation posted forged documents that it claimed to have acquired from hacktivists: it is no coincidence that its early personas included "Anonymous Europe," "Cyber Legion," and "Anonymous Ukraine" or that it posted to cyberguerrilla.org so frequently.
At the same time, the operation paid little attention to genuine leaks from Russian (or any other) sources. It barely mentioned the DNC and Podesta leaks during the 2016 US election, the leak of WADA content in 2016-17, or the Macron leaks of May 2017. The overlap in these topics is discussed in the section on "Campaigns and Competition."
The exception to this rule is the operation's leak of US-UK trade documents in October 2019. This was Secondary Infektion's only known use of genuine documents; it was also the operation's only known high-impact effort. As of May 2020, it was still unclear how the documents had been obtained. Further information on this point may shed light on why Secondary Infektion departed from its normal procedures in this case, and who was behind the operation.