Executive Summary
"Secondary Infektion" is the name given to a long-running Russian information operation, encompassing multiple campaigns on social media run by a central entity, which was already active in 2014 and that was still running in early 2020.
Secondary Infektion targeted countries across Europe and North America with fake stories and forged documents. Its focus and areas of interest were often of a diplomatic and foreign policy nature: it appeared primarily aimed at provoking tensions between Russia's perceived enemies, and its stories typically concerned relationships between governments and often specifically focused on government representatives. It is also notable for launching smear campaigns against Kremlin critics, and for targeting presidential candidates in 2016 in the U.S., in 2017 in France, in Germany, Sweden and elsewhere.
Little is yet known about the central entity behind the operation: its identity is the single most pressing question to emerge from this study.[1] The Facebook security team uncovered a small cluster of accounts run by the operation for the first time in May 2019 and provided the original attribution to actors based in Russia. This in turn enabled others to identify related clusters and stories linked to Secondary Infektion in late 2019 and early 2020. From November 2019 to May 2020, the Graphika team uncovered over 2,500 pieces of content that Secondary Infektion posted across six years, seven languages, and more than 300 platforms and web forums, from social media giants such as Facebook, Twitter, YouTube, and Reddit to niche discussion forums in Pakistan and Australia, providing an unprecedented view of the operation's breadth and depth.
This report is the first systematic examination of Secondary Infektion's campaigns. It reveals the most comprehensive picture yet of this actor's strategic objectives and tactical priorities across the years.
The scale of the operation is impressive, but the range of topics it focused on was relatively small. In descending order of frequency, the operation posted about nine main themes:
Ukraine as a failed state or unreliable partner
The United States and NATO as aggressive and interfering in other countries
Europe as weak and divided
Critics of the Russian government as morally corrupt, alcoholic, or otherwise mentally unstable
Muslims as aggressive invaders
The Russian government as the victim of Western hypocrisy or plots
Western elections as rigged and candidates who criticized the Kremlin as unelectable
Turkey as an aggressive and destabilizing state
World sporting bodies and competitions as unfair, unprofessional, and Russophobic
While active on Reddit, Medium, Twitter, Quora, Facebook, and YouTube, Secondary Infektion used blogging forums more extensively than it used the main social media platforms. It typically worked by posting false and politically explosive stories - often based on images of "leaked" documents - on internet forums and then amplified them in various languages across a range of platforms. The "leaks" typically exposed some dramatic geopolitical scandal, such as a prominent Kremlin critic's corrupt dealings or secret American plans to overthrow pro-Kremlin governments around the world. On most occasions, the operation created a new account to post each version of the story and abandoned each account as soon as it had posted. We found no evidence of Secondary Infektion using ads to amplify these stories.
The earliest traces of Secondary Infektion activity online point to campaigns targeting the Russian opposition in early 2014. When Russia annexed Crimea in February-March 2014, Secondary Infektion shifted to attacking Ukraine, first in Russian and then in English and German as well. With time, it added more targets and more languages, reaching its peak production in late 2018 and early 2019. In May 2019, Facebook exposed the first assets.[2] Working out from those leads, the Atlantic Council's Digital Forensic Research Lab (DFRLab) produced the first substantial cross-platform analysis.[3] After that exposure, Secondary Infektion cut back sharply in output, but it was still posting at a lower rate in early 2020. One of its latest posts accused the United States of creating the Covid-19 coronavirus in a secret weapons lab in Kazakhstan, in a striking return to the operation's intellectual roots.[4]
Like the Russian Internet Research Agency[5] and Russian military intelligence (commonly known as the GRU),[6] Secondary Infektion paid attention to elections and attempted to disrupt these democratic processes - in the United States in 2016,[7] in France in 2017,[8] and in Sweden in 2018,[9] among others. That noted, election interference was never the operation's main focus. Far more, it aimed to exacerbate divisions between countries, trying to set Poles against Germans, Germans against Americans, Americans against Britons, and absolutely everyone against Ukrainians.
Forged Documents
Secondary Infektion stands out for its routine use of forged documents, sometimes surprisingly poorly crafted: in this regard, it is reminiscent of the early history of Russian active measures.[10] Other actors have at times used forged documents in deceptive online campaigns, but none have used this tactic with such volume, consistency, and persistence. Graphika has identified more than 250 suspected forgeries, from letters to petitions, that the operation launched online.
The operation impersonated many Western leaders in its creation of forgeries. It included fake letters, tweets and blog posts from leaders and officials including US Secretary of State Mike Pompeo, former White House Chief of Staff General John Kelly, various members of the US Senate Foreign Affairs and Intelligence Committees, representatives of the German, British, and Ukrainian governments, and former national leaders including Carl Bildt (Sweden) and Mikheil Saakashvili (Georgia).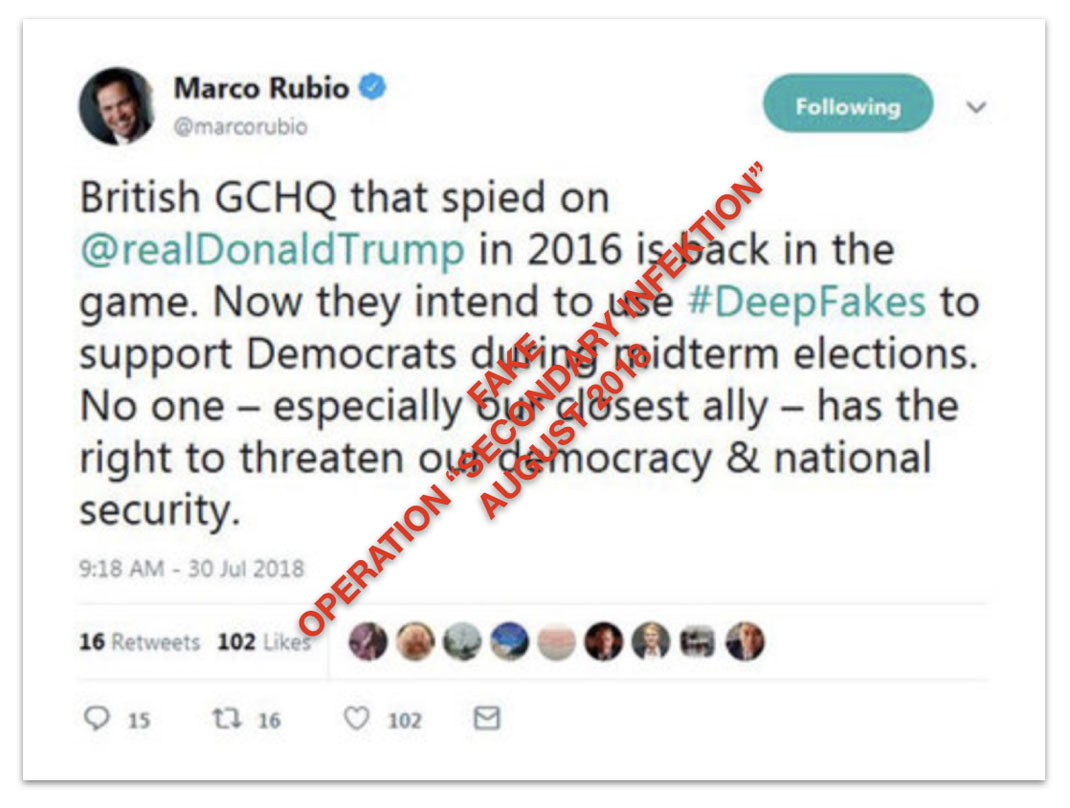 Screenshot of a tweet attributed to U.S. Senator Marco Rubio, accusing the UK of interfering in the U.S.midterm elections of November 2018. Secondary Infektion used the screenshot as the basis of articles alleging UK interference with U.S. elections.[11]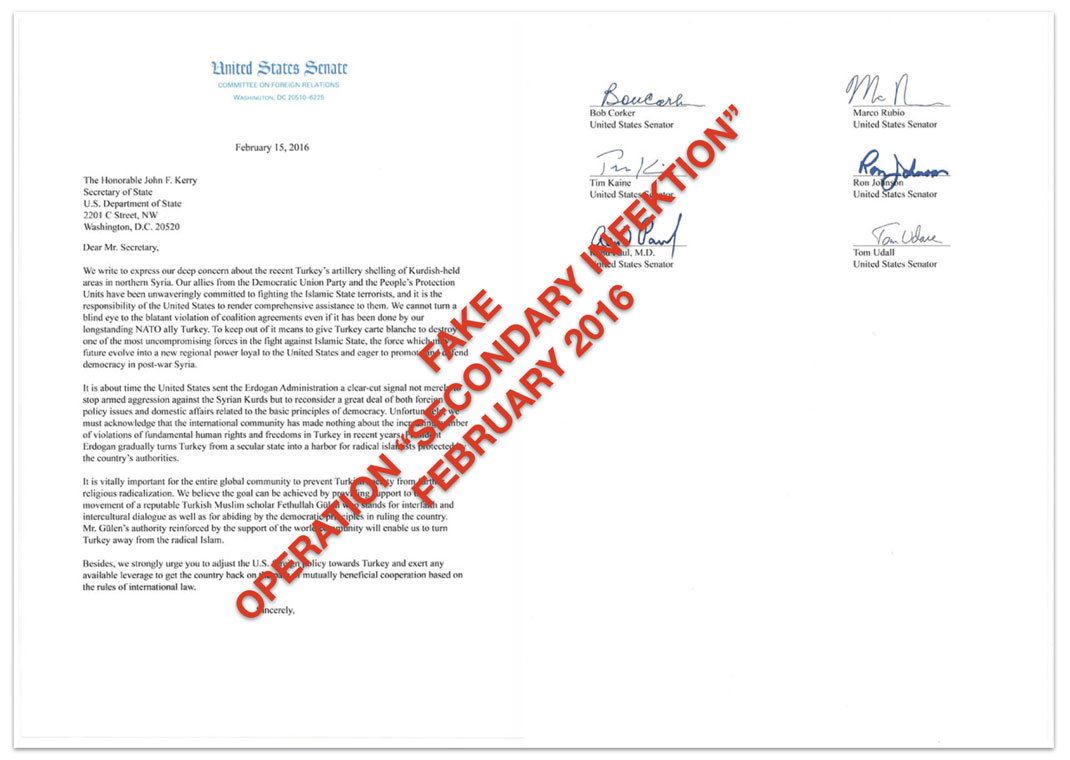 Forged letter attributed to members of the US Senate Foreign Affairs Committee and addressed to then-Secretary of State John Kerry, urging him to support exiled Turkish cleric Fethullah Gulen against the Turkish government. The letter was embedded in Secondary Infektion stories in English[12] and Russian[13] in early 2016, at the height of Russia's anti-Turkish campaign.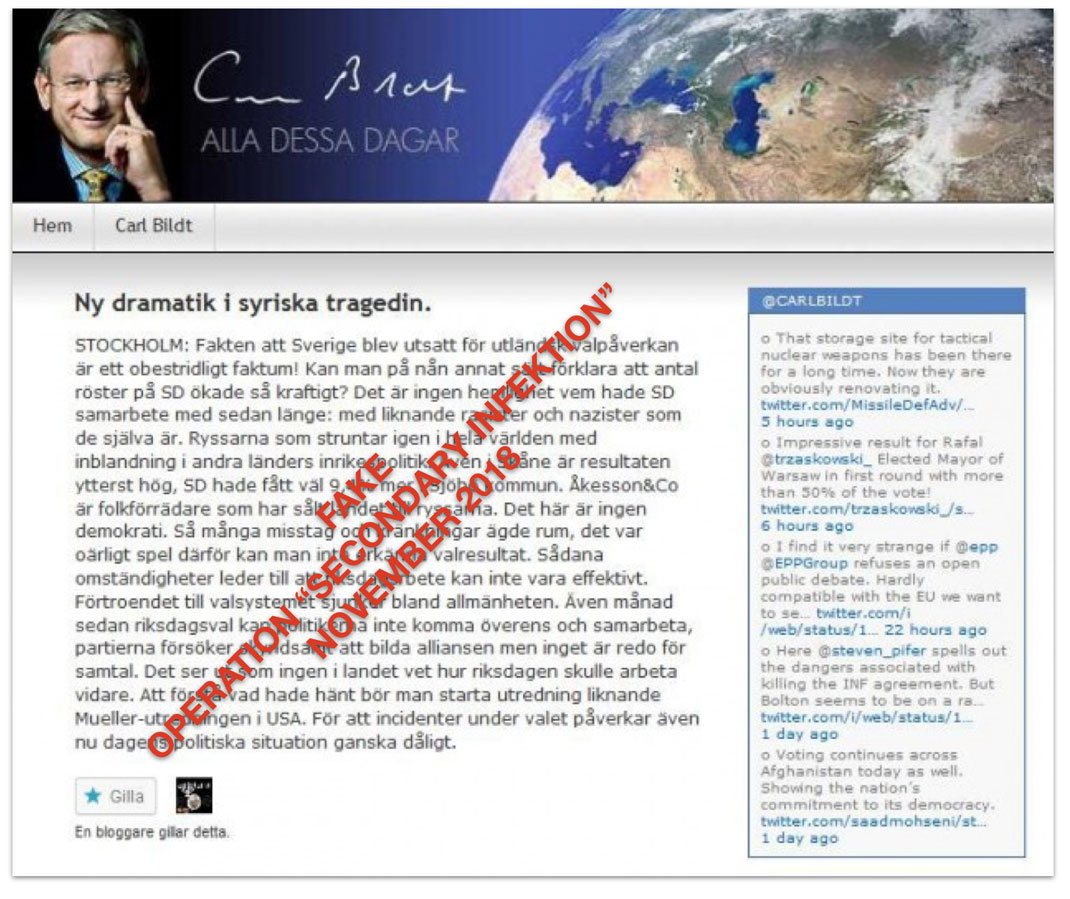 A fake blog post attributed to Swedish politician Carl Bildt and posted by Secondary Infektion in November 2018.[14] The text of the post is the work of the operation and calls for a "Mueller Commission"-style investigation into alleged interference in the Swedish election, but the headline is that of an original Carl Bildt blog referring to the Syrian conflict.[15] It is likely that Secondary Infektion took a screenshot of the blog and photoshopped their own text in, but omitted to change the headline.
The operation also published forged documents, images and videos that it attributed to a wide range of non-governmental organizations, from the World Anti-Doping Agency (WADA) and Organization for Security and Cooperation in Europe (OSCE) to the Committee to Protect Journalists (CPJ) and environmental group Greenpeace.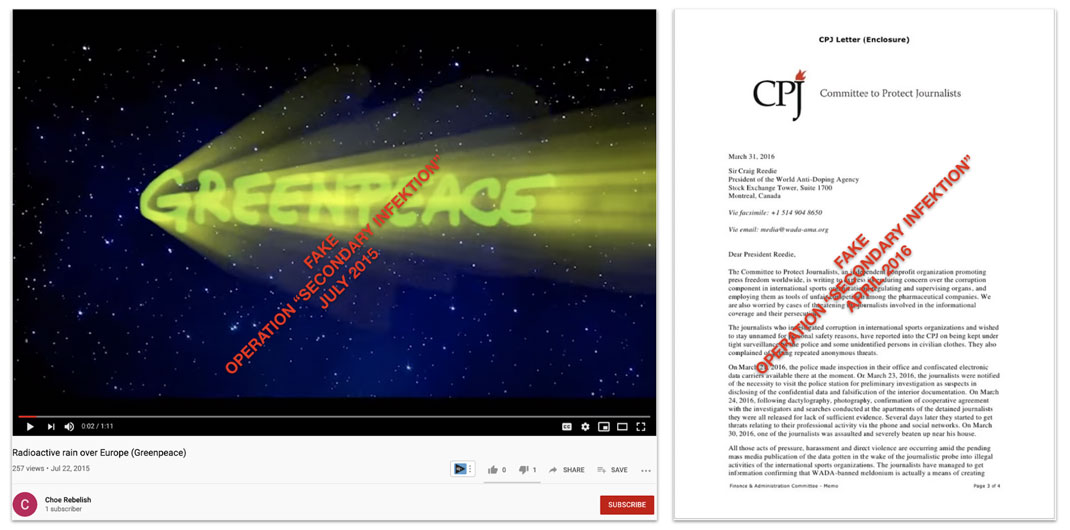 Left, video attributed to Greenpeace that was shared by a Secondary Infektion asset,[16] originally posted on YouTube by a single-use burner account. Right, letter attributed to the CPJ, embedded in a number of Secondary Infektion stories.[17] Both Greenpeace and the CPJ confirmed to Graphika that these were forgeries.
Almost none of those efforts achieved measurable impact. Particularly between late 2016 and early 2020, Secondary Infektion relied on high OPSEC single-use burner accounts for almost everything it posted (it typically created, used and abandoned each account in less than an hour). This meant that the operators never had the chance to build an audience: each time they created a new account, they effectively reset their following to zero. It would be hard to envisage a less viral strategy. In all its years, only one Secondary Infektion effort really achieved traction in the mainstream discussion of targeted countries: the leak of apparently genuine US-UK trade documents on the eve of Britain's general election in 2019, as exposed by our team in November 2019.[18] Another enduring mystery around the operation is what the operators thought they were doing and why they kept on doing it across six years of activity when their stories so often died unnoticed.
Unique Features
Secondary Infektion is unique for the sheer range of platforms on which it posted: no other operation from any country that Graphika has studied even comes close. This operational feature could have been a security measure, as it reduced the impact that any one platform could have on the operation and simultaneously rendered coordinated enforcement and investigations harder.
The operation's lack of viral engagement also sets it apart. Almost none of the operation's posts across six years of activity achieved any measurable engagement, in terms of shares, likes and positive reactions across platforms. This may indicate that the operators were not interested in engagement metrics - for example, if they were driven by production quotas rather than engagement targets - or that they were using some other form of metrics not visible to outside observers. The lasting mismatch between effort expended and apparent impact gained is yet another mystery about this operation.
Secondary Infektion is also remarkable for its high operational security (OPSEC): multiple social media platforms who partnered with our team on this investigation have observed that the people behind this operation were sophisticated at hiding their traces consistently across the years. As of May 2020, this operation has not been directly attributed to a particular actor or entity. A number of converging signals, from digital forensics indicators identified by our team or provided by the platforms to the clues of language, content, and context, help establish that the operation was run from Russia, but which organization(s) and individual(s) within Russia are responsible is still unknown.
The high OPSEC also made it difficult to expose the full scope of the operation. Secondary Infektion deployed single-use burner accounts so consistently that moving from one campaign, forgery, and story to the next proved difficult, because most accounts only posted one article each. Reconstituting the broader picture of the operation presented a significant and time-consuming investigative challenge. This report is the first large-scale analysis of Secondary Infektion to look beyond anecdotal descriptions of individual stories and identify its systematic patterns.
Nevertheless, our report remains a snapshot and its limitations must be considered: alongside additional stories by the operation that may remain to be discovered, it is highly likely that a significant chunk of the operation's archives and traces have been lost to various types of content-moderation and behavior-based enforcement efforts across the years. Secondary Infektion's posts were consistently low-quality, often running afoul of anti-spam rules on platforms and at times generating pushback from other users who came across their content. It is likely that we will never identify all the articles that Secondary Infektion posted. Our hope is that the current report will provide a springboard for more researchers to make more discoveries and bring the full puzzle closer to completion.

Redditors' reactions to Secondary Infektion piece "The Trojan Pony of Brexit."[19] We have obscured the names of users unaffiliated with the operation.
To enable further discoveries, Graphika is sharing, alongside this report, a database of the articles that we have identified as parts of the operation and a repository of the visual assets included in those articles.
No one actor in this space has a monopoly on insights and information. As influence operations try harder to hide, all the different actors will have to work together more closely to keep on finding them.