Lighter Moments
This report has treated Secondary Infektion as a serious operation. This is deliberate: a threat actor that showed such high OPSEC abilities, such deep resources, and such strategic patience is not to be taken lightly. However, at the same time, the operation was marked by moments of clumsiness, linguistic errors, and telltale traces that betrayed some of its efforts.
This is an important reminder that information operations, even well-resourced and persistent ones, are not always the existential threat that they may appear. Fear is as much a weapon of such operations as falsehood, and it is vital to view them dispassionately, acknowledging their strengths, but also underlining their weaknesses. Secondary Infektion was very widespread, well-resourced, and long-lasting, but it struggled to engage audiences on social media with the content it created and amplified.
This section collects some of the operation's more memorable mistakes.
---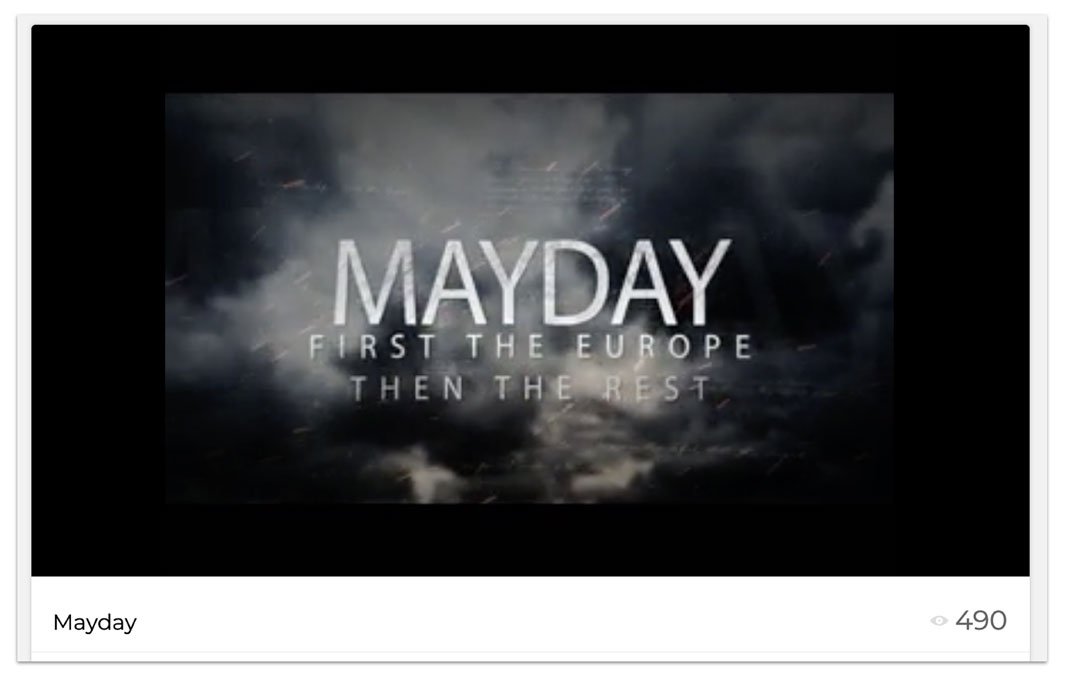 "Mayday! First the Europe, then the rest." Secondary Infektion video dated August 2, 2016.[351] The language error is especially glaring in the mid-screen, all-caps format.

Speaking of language errors, this paragraph has it all. Taken from a conspiracy piece entitled, "Flowers for Kim Jong-un or Operation White Chrysanthemum,"[352] it features the inability to use the genitive ("one the soldiers" instead of "one of the soldiers"), confusion over "to say" versus "to tell" ("he energetically told that his brother was one of the 'three thousand'), inappropriately archaizing language ("for he was granted a furlough"), and confusion over "a" and "the" ("A fat monster won't be able to threaten anyone," presumably instead of "that fat monster"). It was ostensibly written by an American journalist.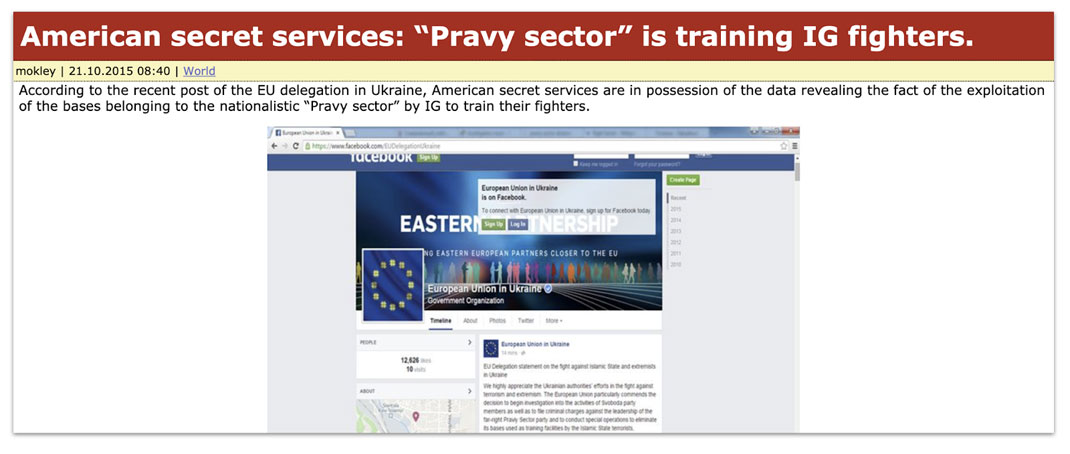 In October 2015, Secondary Infektion ran the story that the "Pravy Sektor" far-right group in Ukraine was training Islamic State (IS) terrorists.[353] Unfortunately, the unknown author must have been thinking in Russian, and called them "IG," from the Russian ИГ ("Исламское Государство"). This is a case of an influence operation betraying itself right from the headline, but it is not a record . . .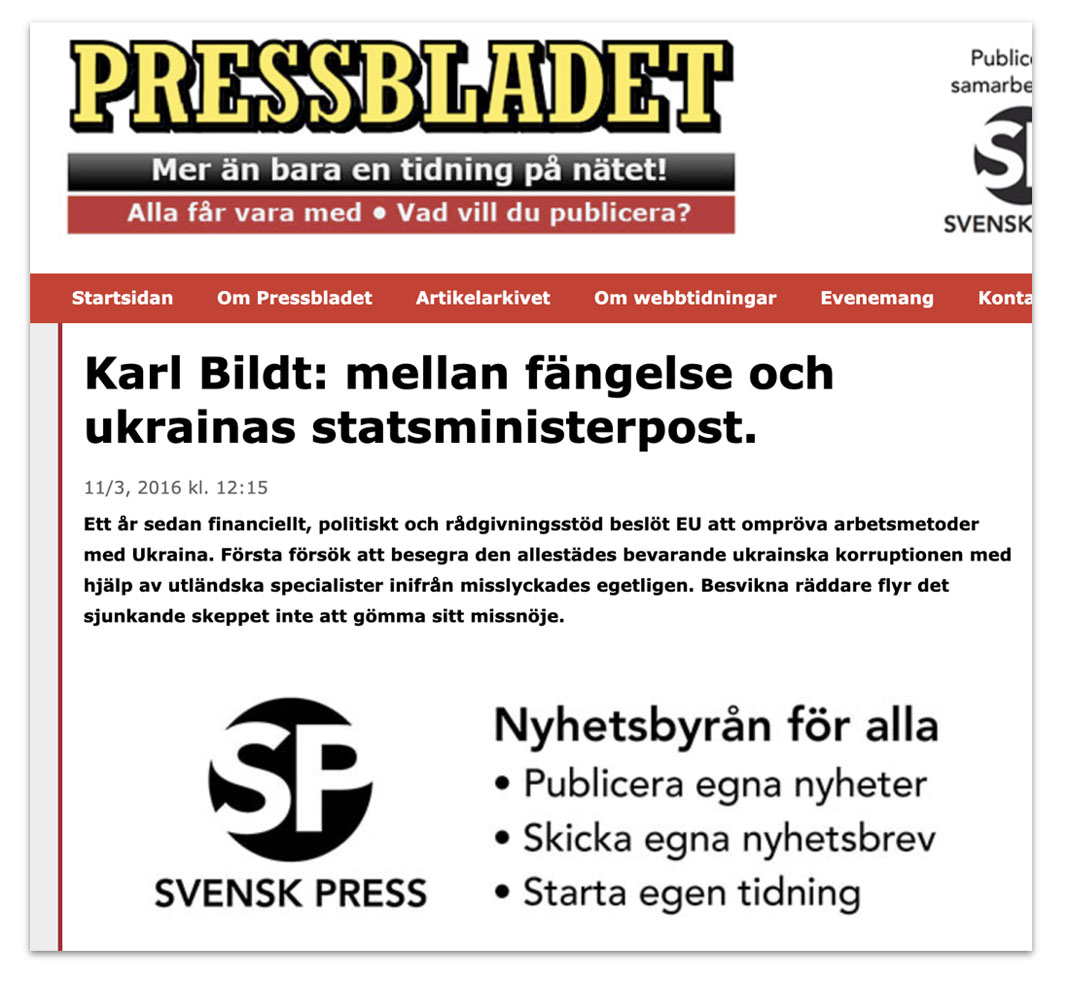 . . . because it is up against one of Secondary Infektion's Swedish products.[354] Judging by comparison with other language variants of the same article,[355] the headline was meant to refer to Sweden's former prime minister and foreign minister Carl Bildt, a prominent figure in Swedish politics for over 30 years. However, it misspelled his first name in the headline, an error that would be unlikely to come from a genuine Swedish journalist. This is a rare example of an information operation exposing itself with the very first letter..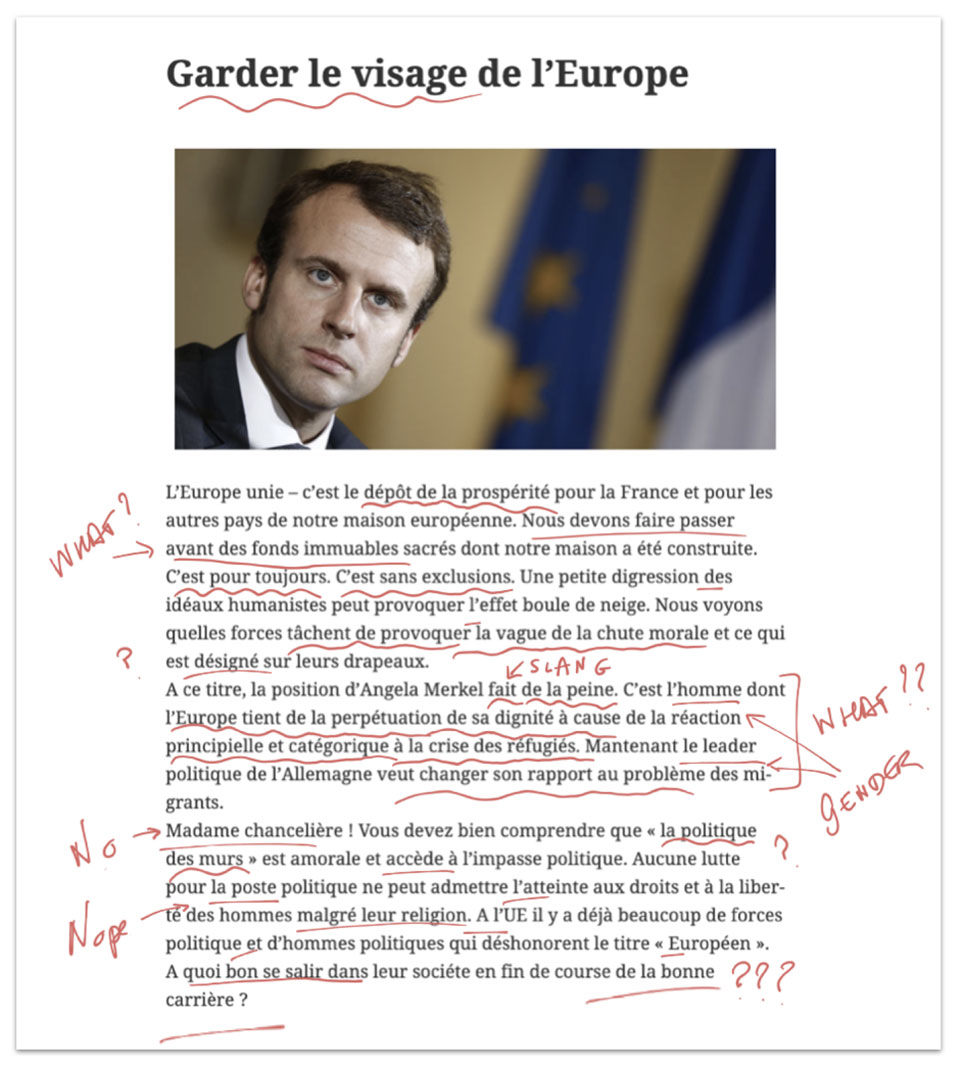 Secondary Infektion's linguistic struggles played out in French, too. This article was attributed to French President Emmanuel Macron, but was riddled with language errors.[356] Here, it has been annotated by a French native speaker.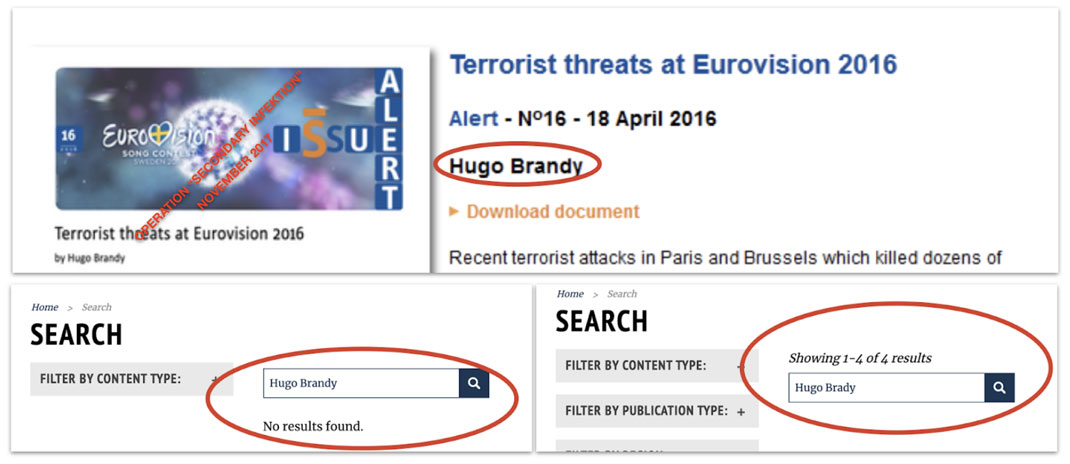 In April 2016, Secondary Infektion planted the story that that year's Eurovision Song Contest was under terrorist threat. The "evidence" for this claim was a screenshot of a report attributed to the European Union Institute for Security Studies, headlined "Terrorist threats at Eurovision 2016." The article was attributed to "Hugo Brandy." No such expert has ever been published on the EU ISS website, but Hugo Brady has.[357] It is unclear whether this was a drinker's typo or an attempt to avoid drawing it to the real Brady's attention.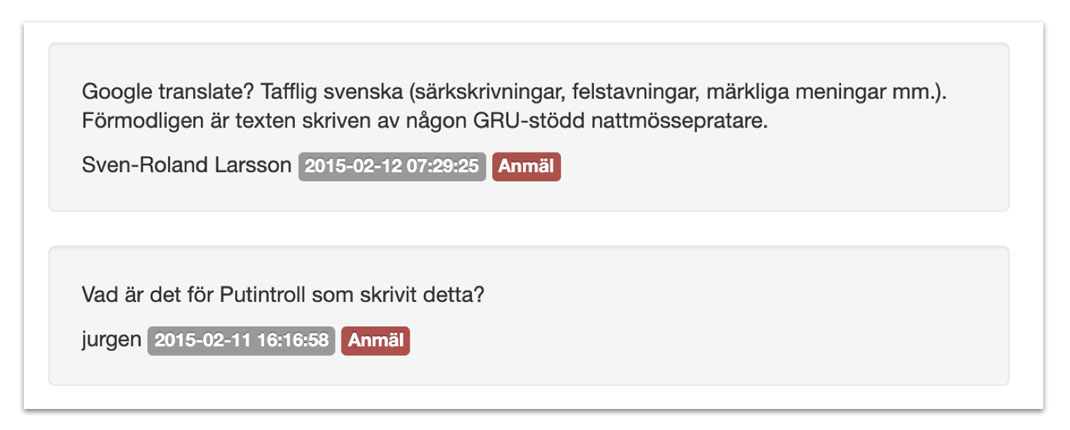 In February 2015, Secondary Infektion scrambled to defend Russia against the claim that a Russian aircraft had flown dangerously close to a Swedish one. The operation appears to have posted a Swedish article from a burner account and then amplified it from the Steven Laack persona.[358] Genuine Swedes were less than impressed with the Swedish version. The upper comment reads, "Google translate? Clumsy Swedish (gaps between words, misspellings, strange sentences, etc.). The text's probably written by some GRU-supported nightcap-babblers." The lower one reads, "What kind of Putin troll wrote this?"
It is an appropriate epitaph for Secondary Infektion.